Ultimate Trades Guide
A Trade as defined on our platform is the commodity, goods or services that your company
provides.
Leads 2 Business provides a platform where you can get listed and specify your trades on our comprehensive Directory of Clients, Professionals, Contractors and Suppliers.
Why wait for business?
Present opportunities for your company, with a trade specific approach to new business, engage with Buyers who are looking for services or products within your scope of work.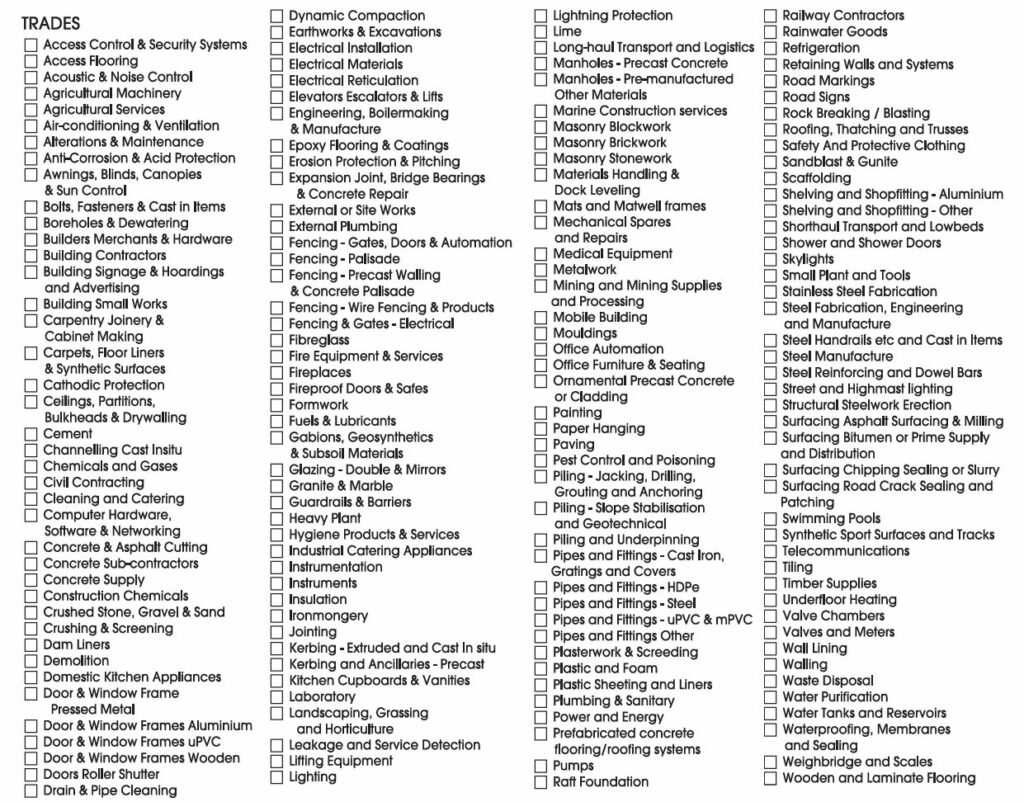 Contractors
Are you looking for the following?
Bill of Quantities converted and coded according to distinct trades which are then system generated to formulate a Request for Quote (RfQ).
Effortless, fast, online communication between Contractors and Suppliers using our electronic pricing enquiry platform.
The ability to select from our database of suppliers and send trade and region specific Request for Quotes (RfQ).
A dedicated support team that will assist in the progress of your quotations.
Suppliers
Take an active approach and generate new business, get listed on our extensive Directory.
Define your scope of business, list your products, trades, services and serviceable regions.
Gain access to Bills that match your trades and serviceable areas.
Become a preferred supplier.
Respond to contractors directly using our unique and remarkable online pricing platform.
Get alerts on awarded contracts
Give your business the edge, an extraordinary user friendly platform, used extensively in the construction industry that could open your business up to dynamic prospects.
To view more articles, please visit the Leads 2 Business Blog.
If you are interested in becoming one of our subscribers, please visit Leads 2 Business.
To view notes with screenshots on how to use our website, please visit the Leads 2 Business Wiki.
My name is Lola Govender. I have been working at L2B for 9 years and am very passionate about our business.