L2B Golf Day

You've got to wonder if there's any better way to spend a business day, than doing it on the green – deadlines, spreadsheets and the continual flow of emails far behind you as you line up to take your shot.
And so, with made-to-order weather at the picturesque Randpark golf club, the Leads 2 Business' 13th Annual Construction-industry Golf day commenced.
This is the way to do it – meeting, greeting and interacting with construction-industry participants; there were over 70 unique businesses in attendance and more than 40 sponsored areas, the participants eagerly awaited their turn to entertain – golfers were spoilt for choice.
The course was dotted with splashes of colour, laughter and camaraderie – greens and tees were adorned with brightly coloured banners, heavy machinery, cranes, trucks and equipment; if it involved construction, it was there. Gazebos housed friendly promoters, welcoming golfers with a variety of drinks and snacks.
Sponsors and players alike came together with single minded intent to have fun and make a day of it!
Unique, out-of-the-box ideas abounded, including a single-story scaffolding deck for golfers to tee off from, the Hole-in-One competition with a brand-spanking new Audi Q5 for the taking, hoisted into the air by crane and dangling over the greens for all to see.
Stunning aerial shots were taken of the golfers, greens and the sponsored holes, whilst an assortment of competitions were held out on the field, to raise funds towards the chosen charity.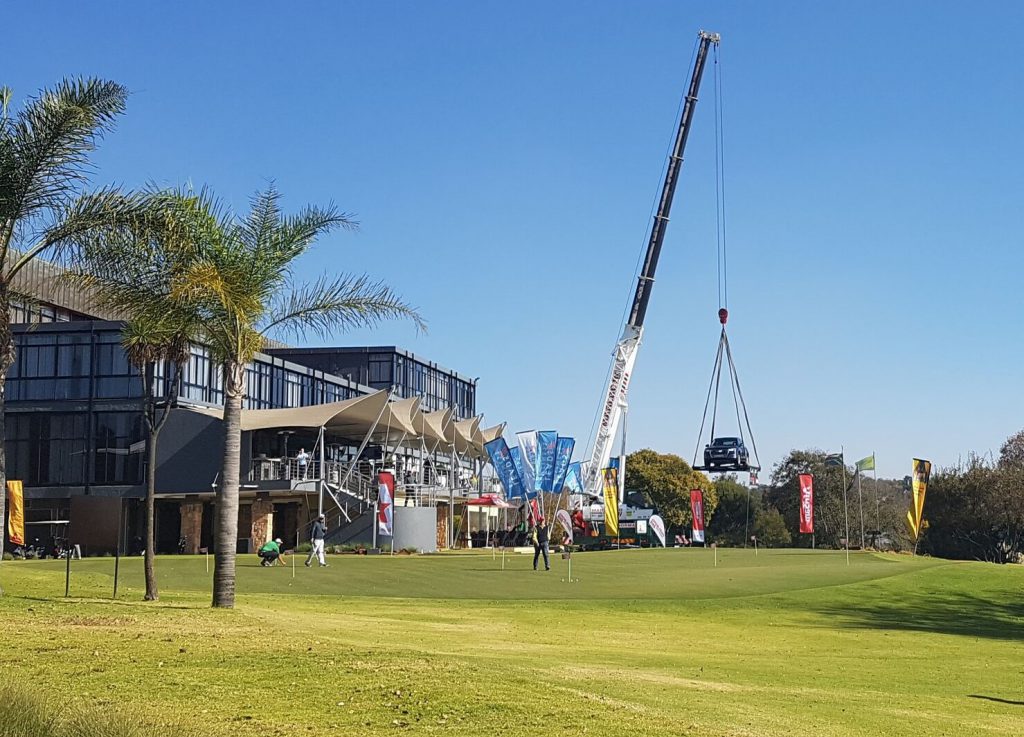 Our prize giving emcee was the fabulous 'Vinnige' Fanie de Villiers, who entertained us with jokes, drinks for numerous course offences and auctioned off items, including a stunning safari weekend, autographed 18th hole PGA flags and sporting goods, sponsored by Fanie himself.
Sponsors readily contributed, and the winning golfers got to take home some amazing prizes!
Edwin Pearce, the Warden from the Timbavati Wildlife Protection Programme's (TWPP) anti-Rhino poaching unit, presented a moving speech that raised awareness on the plight of the Rhino; what they are up against and what it is they are doing to stem the rising tide of poaching.
Sponsor competitions on the day and the prize giving auction raised a significant amount of cash for the grateful TWPP warden and field sergeants.
Leads 2 Business initiated the golf day as a way of thanking our loyal supporters for their ongoing commitment and the L2B staff clamour to be part of this day; enjoying the opportunity to interact with their clients, and in the case of our KZN-based staff, the opportunity to put a face to a name.
With grateful thanks to all our esteemed Sponsors, Golfers and Subscribers who made this fantastic day possible – we at Leads 2 Business, thank you for your valued support:
A & R Investments
AfriSam
Akhane Construction
Asatico Civil & Construction
CarMix SA
CCS Computer Construction Software
Colas
Corobrik
Eco Life
Engineering News
FEM
Fidelity Group/ ADT
Franke SA
Ian Dickie
JK Drilling
Kwikspace
MacDonald Steel
Macsteel Trading
Marlboro Crane
Master Builders Association North
Motheo Construction
National Asphalt
New Generation Rigging & Cranes
PPC
Prefab Sprout
ProBuild Construction Group
Prokon
RMS Reinforcing & Mesh Solutions
Rollup Serranda
Rotork Africa
Sectional Poles
Sephaku Cement
Sika SA
Specialised Exhibitions
Spray Pave
Taucon Civils
Tekfalt Binders
Temi Construction
Timbavati – Bruce Jenkins
Umlani Safari's
Uni-Span Scaffolding
VEA Road and WBHO
WHBO
If you are interested in becoming one of our subscribers, please visit our website.
To view notes with screenshots on how to use our website, please visit our Wiki site.
To view more articles, please visit our blog.
I started my journey at Leads 2 Business in 2004 as an account executive. In 2006 I moved over to MAPRO (Marketing, Advertising and PRO), and in 2012 I became a Director. It's exceptionally rewarding being a part of the Leads 2 Business team. I'm incredibly proud of the achievements and business ethos and I've always firmly believed we offer a valuable service, fine-tuned to our subscriber needs. I am a Mom of two beautiful children, a lover of human interaction, laughter and light, sprinkled with a generous dose of fun.