Buildings damaged in the unrest in Kwa-Zulu Natal and Gauteng
The unrest began on July 8 2021, Jacob Zuma Protests, A series of protests regarding the arrest of ex-president Jacob Zuma resulted in mass looting of retail shops, burning buildings, shutting down the transport industry in two of the bigger provinces Kwa-Zulu Natal and Gauteng.
South Africa has been dubbed "the protest capital of the world" with one of the highest rates of public protests. Roads damaged by the burning of trucks while some toll plazas were also damaged, South Africa's construction industry may receive a short term boost from the rebuilding of damaged and destroyed infrastructure, buildings and structures in unrest and looting but the longer-term outlook for the sector is more uncertain. Protecting, burning, destroying schools, roads, retails, government buildings, transports, costing the country billions of rands.
The newly built Brookside Mall was not spared after it was burnt down during the unrest in KwaZulu-Natal. Plans are underway to rebuild.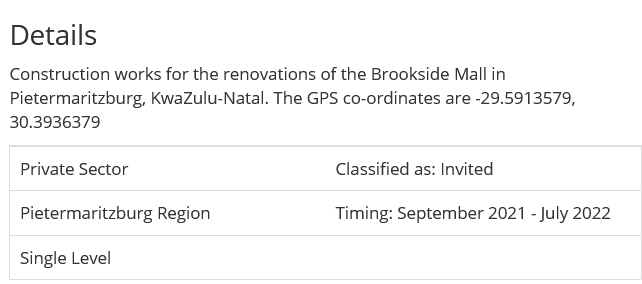 Professionals Team, Project Notes, Bidders, Awards, Main Contractors and Sub Contractors are all available on Leads 2 Business.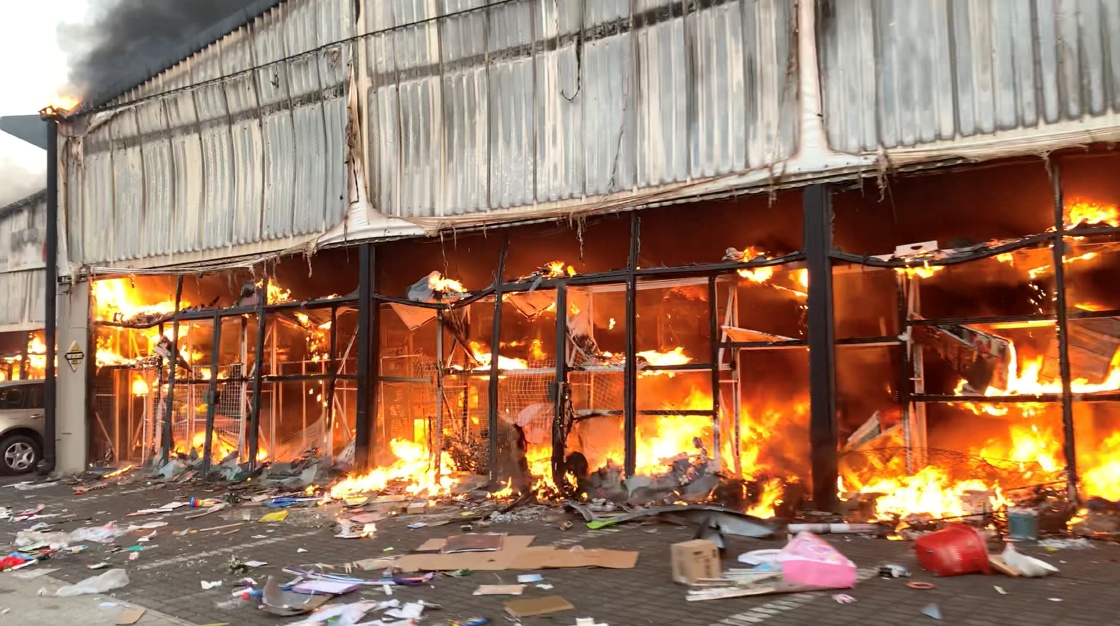 Recovery and Reconstruction
"However, all eyes will now be on the government's Recovery and Reconstruction Plan, which has been rather slow right out of the starting blocks."
President Cyril Ramaphosa has unveiled plans to assist businesses caught up in the recent unrest in KwaZulu-Natal and Gauteng, and those SMMEs that have been affected by the Covid-19 pandemic that has ravaged the country's economy.
The president said that South Africa is one of the few countries in the world to have a state-owned insurance company, SASRIA, which provides cover against incidents of public violence, strikes, riots and unrest.
SASRIA has committed to expediting the payment of all valid claims, and is working together with private insurers, Ramaphosa said, adding that some businesses that were victims of this violence may not have been insured.
Nearly R4bn recovery fund was set up to help businesses after looting
Trade, industry and competition minister said the trade department, working with the small business department, had identified eight urgent focus areas for business and economic recovery: restoring supply lines; making immediate repairs to shops (such as replacing broken windows)
So they could reopen in weeks; accelerating construction and structural repairs where larger builds were needed, some of which would take months to complete.
Below is a list of businesses and buildings damaged by the unrest in KwaZulu-Natal and Gauteng
Chris Hani Crossing

Daveyton Shopping Centre

Diepkloof Square

Dobsonville Mall

Evagold Shopping Centre

Evaton Mall

Jabulani Mall

Irene Village

Khan Corner

Letsoho Mall

Mams Mall

Maverick Corner

Ndofaya Mall

Normandie Court

Palm Springs Shopping Centre

Pan African Mall

Protea Garden Mall

Queens Court

Sam Ntuli Mall

Sizwe Shopping Centre

Sontonga Mall

South Gate Mall

Tembi Mall

Yarona Shopping Centre

30 Afroprop Buildings

30 Makro & Game buildings

32 Schools in KZN

320 West Street

33 Standard Bank branches 220 of its ATMS

88 Field Street

Afrox

BIDFOOD

Biyela Shopping Centre

Bridge City Shopping Centre

Brookside Mall

Cato Ridge Distribution Centre

China Mall

China City

City Life Building

Cornubia Ridge Logistic Park – Warehouse 1

Davenport Square

Defy Warehouse

Delta Towers

Dunlop Centre

Edendale Crossing Centre

Edendale Mall

Eshowe Mall – The Atrium

Galleria Mall

Game PMB

Glenwood Village

Hammarsdale Junction

Hyundai Dealership

Isipingo Market

Isipingo Junction

Isithebe Industrial park

Kingspark Manufacturers factory

Kwamashu Shopping Centre

Kyalami Industrial Park

Laager Centre Spar

Ladysmith crematorium

LG Warehouse

Liberty Towers

Machibisa Spar

Makro

Mandeni Mall

Massmart

Mega City Mall

Mkuze Shopping Centre

Montclair Mall

North Coast Industrial Park

Pine Parkade

Pinetown Central

Pinecrest Mall

Pine Walk Centre

Queensmead Mall

Redlyn Business Park

Ridge Mall

RTT Warehouse

SANBS

Sanlam Centre

Scottsville Mall

Seaquence Logistics

Southway Mall

Springfield Value Mart

Superspar

Theku Plaza

The Ridge Shopping Centre Shallcross

The Workshop

The Boulevard Business Park

Treasury House

Umgeni Business Park

Umkomaas Central

Umlazi Mega City

Umzinto Priso

Ushekela Industrial Park

Value Logistics

Vector Logistics Cold room

Warehouse – Reservoir Hills

Warehouse in Brickfield

Wartburg Central

Watercrest Mall

Waterfall Storage Facility – Stor-Age

Westmead Cash & Carry

Westwood Mall

West Street
---
To view more Articles, please visit our Leads 2 Business Blog.
If you are interested in becoming one of our subscribers, please visit Leads 2 Business.
To view notes with screenshots on how to use our website, please visit Leads 2 Business Wiki.
I started working for Leads to Business June 2017 as Support Assistance in L2Q.