Planning and transportation of materials, tools, and equipment is an important aspect of completing any construction job on time. Construction projects have many moving parts and managing all of these different elements is crucial to the success of any project, so you have to have to make sure you have a logistics plan in place in order for the project to run as smoothly as it possibly can and within the budget of course. We do not often think or realize how important this aspect of the project is.
Depending on where the site is will ultimately decide how the materials will be transported as well as what is being transported. The most common mode of transportation are trucks and flatbed trucks and trailers.
When the site is ready and all the materials and equipment have arrived, the transportation of construction material on site begins.
Examples of construction equipment on a site:
1. Boom Lift – a type of aerial platform used to get workers off the ground to work on an elevated project.
2. Scissor Lift – Similar to a boom lift, scissor lifts are aerial work platforms used to elevate workers.
3. Forklift – If materials need to be transported a short distance, forklift equipment can be used.
4. Telehandler – used for jobs where a forklift is inadequate. It's more heavy-duty than a forklift and can access much higher areas as well.
5. Bulldozer – is used to push, carry and condense any sort of loose material on site.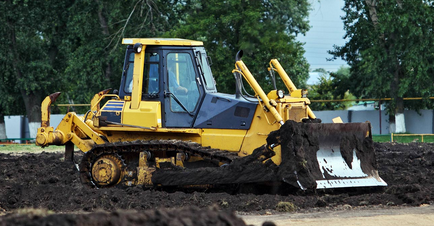 6. Skid Steer Loader – a skid loader can host different equipment and is also small enough to maneuver into tight areas of a site.
7. Excavator – An excavator is a heavy piece of machinery used to dig and crush material on a site.
8. Off-Highway Truck – The off-highway truck is specifically made for rugged environments. This heavy-duty dump truck has massive wheels with deep treads, allowing it to venture off-road and support construction and mining sites. It's primarily used to transport materials like rocks or dirt from one site to another. Some models use multi-axle dump buckets to support even heavier loads.
9. Carry Deck Crane – A carry deck crane is a small, mobile crane system.
10. Articulated Hauler – As with an articulated truck, an articulated hauler has a pivot joint in its build, giving it increased mobility. Because of this joint, it can carry massive loads around tight turns, making it ideal for most structural builds. This dump truck has a control hub where the driver sits and a material pail where loads go to be transported. Almost all articulated haulers are four-wheel drive, giving them access to most sites regardless of condition.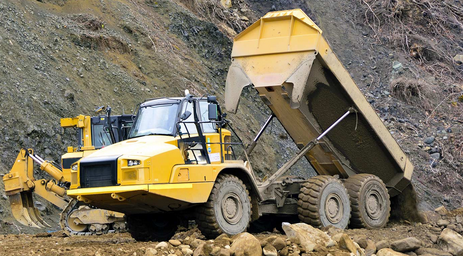 Sources:
Construction Business Owner
The Boss Magazine
Big Rentx
---
To view more Articles, please visit our Leads 2 Business Blog.
If you are interested in becoming one of our subscribers, please visit Leads 2 Business.
To view notes with screenshots on how to use our website, please visit Leads 2 Business Wiki.
My journey at Leads 2 Business all started back in September 2014 as a content researcher in the Daily Tenders Africa Department. In March 2018 I was promoted to content researcher in the Private Project department. I am a fun loving, bubbly person and mom to a beautiful baby boy who is the absolute light of my life.