Solar & kinetic roads

Energy is the basic need for the development of the modern world, however when we think of the future most of us have started to think negatively about the planet and what humankind is doing to our home.
There are still some believers out there who believe that they can make a difference to the world and they are doing everything possible to change it.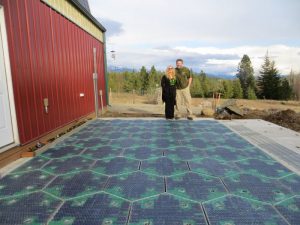 Solar Roadways was founded in 2006 by Scott and Julie Brusaw, when they first introduced roads with integrated solar panelsin 2006. They claim that their technology could be a game changer in the attempt to make our planet more sustainable.
They have created the first prototype "solar panel roads" – this will replace all conventional tar roads.
This will not only create jobs in every country it is brought into, but it will also increase road safety with its built-in LED system that can inform drivers of any accidents that may be ahead or any other obstructions in the road.
South Africa can really benefit from something like this with its current energy shortages and problematic power plants. Imagine the roads you are driving on bringing electricity to the country, this would drop the rising electricity prices and provide safe roads for all to travel on.  With the introduction of this into our country there would also be an increase in jobs in this new sector, new skills to be learnt and the solar panels only have to be replaced when faulty.
So what are these "SMART'' road panels and what makes them so special.  Well, if my research is anything to go by, then these revolutionary little solar panels could promise to pack quite the eco-punch.
The solar roadway is a road; a series of solar panels, structurally engineered to be driven upon.
Solar Roadway panels are made of tempered (safety) glass.
Glass was chosen for its hardness, strength, durability, and transmittance.
Solar Roadway glass is textured to create proper traction for vehicles and pedestrians.
Each unit is made of top and bottom glass panels, with the other components such as solar cells and LED lights enclosed in between.
The objective of the solar roadways is to be able to tap and store as much energy as possible to be used in business & domestic consumption. It is a revolutionary way of finding solutions to the petroleum-based asphalt roads, and the use of fossil fuels to generate electricity
One advantage of this project is that it is will enable the world to cut down on greenhouse emissions by half.
One major difference one will notice when comparing Solar Roadways glass panels to traditional tar roads is aesthetics. The hexagonal panels are quite a work of art and will dramatically beautify roads, highways etc. Unlike tar roads,
Solar Roadway panels are impervious to potholes. The repair of potholes is expense, and an unnecessary inconvenience to motorists, (with the panels) you can merely remove one and fix it (No more potholes to deal with)
In China, one of the world's first solar highways is taking shape.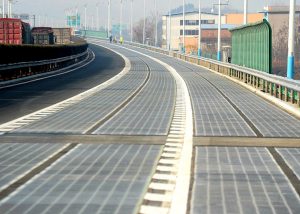 In France, a 1 kilometer-long strip of road is made entirely out of solar panels. This trial solar panels is to be tested for 2 years to see how much electricity its can generate.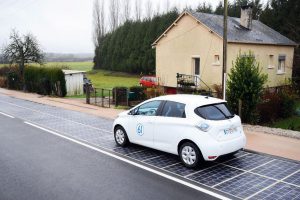 In the Netherlands the newest bike paths doubles as a solar energy generator that helps power surrounding neighborhoods.
One major drawback of this project is its start-up and maintenance costs
South African governments are not moving fast enough to progress the uptake of solar energy, let alone solar road energy.
Could the solar panel superhighway be the power station of the future?
Sources:
Solar Roadways
Wikipedia
Ecopreneurist
Slate
Nootrix
To view more articles, please visit the Leads 2 Business Blog.
If you are interested in becoming one of our subscribers, please visit Leads 2 Business.
To view notes with screenshots on how to use our website, please visit the Leads 2 Business Wiki.
Please follow and like us:
I started working for Leads to Business June 2017 as Support Assistance in L2Q.