An abandoned construction project can be defined as a project which has been 1) totally abandoned, or 2) indefinitely delayed. Abandonment may happen at any stage of a project life-cycle and incur a significant amount of loss.
There are various reasons why construction projects are abandoned:
Inadequate planning
Inadequate finance
Inflation
Bankruptcy of Contractor
Variation of project scope
Political factor
Delaying in payment
Incompetent project manager
Wrong estimate
Faulty design
Inadequate cost control
Change of priority
Unqualified/inexperience Consultants
Administrative/legal action
Disputes
Natural Disasters
The effects of construction projects are mainly:
Unemployment
Bad image for government
Government sector underdevelopment
Slow economic growth
Financial institutions lose confidence in the state
Discourages investment
Loss of revenue by state
Here are a few construction projects that have been abandoned and the reasons:
1. The Ghana-STX Building Project, a $10 billion housing project – The project was supposed to lead to the construction of 200,000 houses in Ghana for over 5 years. From research findings, causes of failure of the project were due mostly to disunity, lack of effective governance and project control. Corruption was also a feature.
2.  Mususu Kalenga Building in Zambia – The structure was built at a cost of K400 million by the Zambia State Insurance Corporation and sold to Royal Lutanda Company Limited at K800 million in 2000. The 11-storey building has remained abandoned for over 25 years. There is no indication as to why it was never completed.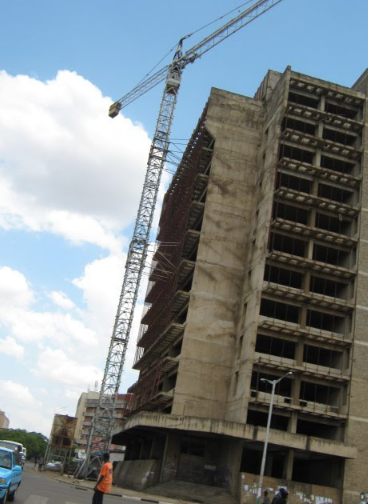 3.    900-1000MW Coal Power Plant at Lamu in Lamu County, Kenya – Kenya's National Environment Tribunal revoked the license granted to the Power Company to build a coal power plant, due to the companies failure to do a thorough environment and social impact assessment (ESIA) that met the requirements of the law.
4.    Construction of a 20,000 seat capacity stadium in Mongu District in Zambia – The government abandoned its plans for the Mongu Stadium most likely due to lack of funding.
5.    Grand Police Bay Hotel, Seychelles – There was a lot of backlash regarding this project and the government decided to not proceed with its plans.
6.    Al-Noor Tower, Casablanca, Morocco – The 540m high skyscraper was to include a luxury hotel,  offices, apartments, an art gallery and a luxury arcade of shops. The client, Middle East Development LLC decided to not proceed with the development stating that a tower if this size was not an appropriate project for Morocco at the moment.
7.    Hope City – A mixed-use development in Ghana – With a downturn in the economy, relocation of the project, and erratic power supply, work on the project never got underway. RLG Communications, the Ghanaian tech company which was supposed to be spearheading the project was itself caught up in various scandals. To date, nothing further has happened with this development.
8.    Pinewood Uranium Project, Tanzania – Kibo Mining (AIM: KIBO; AltX: KBO) announced on 24th February 2017 that it will cease activities at its Pinewood and Morogoro uranium coal and gold projects with immediate effect. The reason behind this strategic choice is in that both Metal Tiger and Kibo Mining have experienced considerable success in other projects of their business portfolio and this has led to these interests becoming the absolute focus of each company.
9.    Construction of sewers, roads and infrastructural services for 360 plots in Kazungula Village and at Nnyungwe area in Kasane, Botswana – Government mysteriously abandons the P80 Million tender as works near completion and this sparks corruption rumours.
Sources:
Research Gate – Abandoned
Research Gate – Government
PM World Library
The Gazette
L2B
---
To view more Articles, please visit our Leads 2 Business Blog.
If you are interested in becoming one of our subscribers, please visit Leads 2 Business.
To view notes with screenshots on how to use our website, please visit Leads 2 Business Wiki.
My journey at Leads 2 Business all started back in September 2014 as a content researcher in the Daily Tenders Africa Department. In March 2018 I was promoted to content researcher in the Private Project department. I am a fun loving, bubbly person and mom to a beautiful baby boy who is the absolute light of my life.