My definition: "A creative artist with the city as their canvas."
A town planner is professional who deals closely with architects, designers, landscape architects and engineers in order to create, manage, define and renew our cities. They work to plan human settlements and come up with long term plans for cities and regional areas, to try and reduce congestion and alleviate transport congestion and one of the ways of doing this is planning for public transport.
A town planner needs to have an understanding of population trends and the demands of the community. They are able to handle the influx of people and their needs. They encourage growth and change and enrich the lives of everyone. To be a good town planner you would need to have a vision of how you would like the city to look and feel. You need to be a good listener and understand how the community feel about their city, sometimes they may have ideas that are more valid or even better. You also need to have patience and understand that some of the plans you are working on may take 10 sometimes 20 years to eventuate. Other skills needed would be problem solving, negotiation, communication, management, team work and flexibility.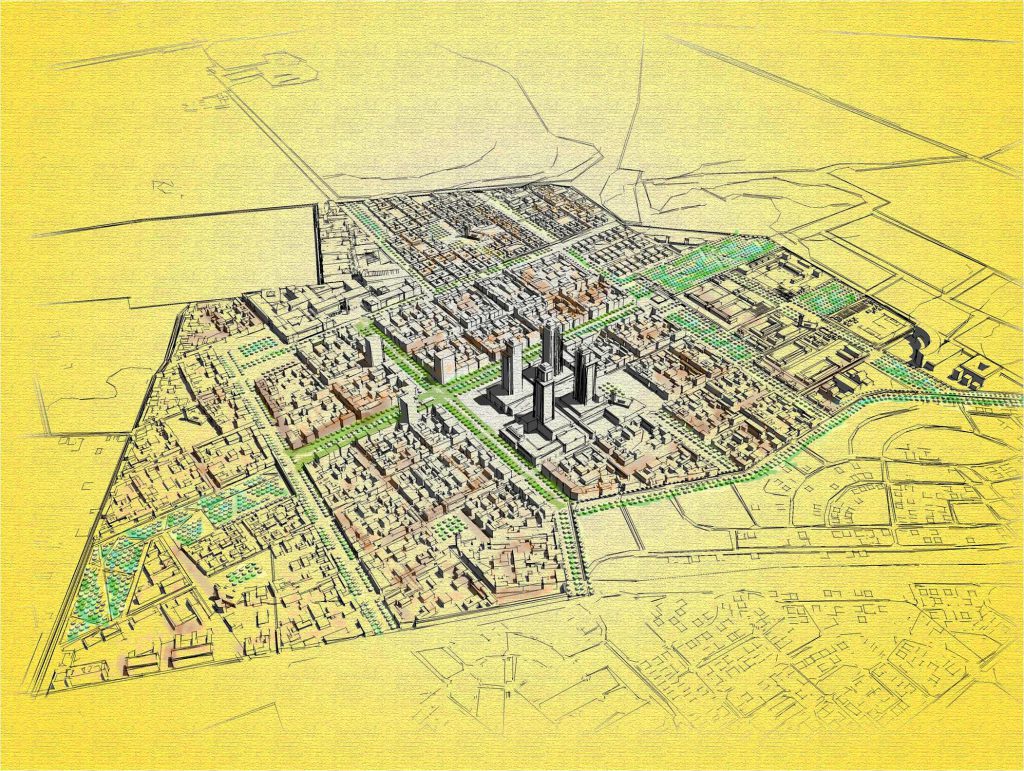 Source
They plan to make full use of space in such a way not to be wasteful and to be mindful of the environment and old historic buildings that are of architetrual importance. There are also rules and regulations that need to followed as well as a municipal budget.
Not only do they plan new exciting buildings, bridges and roads, but they also plan extensions and alterations of the existing areas.
Town planning seems to be very stressful, but also very rewarding.
If you want to make a real difference and have a keen interest in geography and the city, then this might be for you. You could make an impact on the world and the city you live in.
To me, the fun part would be using the tools and technology to do the designing, planning and layout of the city. I mean I love drawing. Town planning isn't just drawing images of buildings all day. There is a lot of hard work before putting pen to paper.
According to GK Hiraskar the 3 main planning principals with regards to town planning are health, convenience and beauty.
Health – Creating and promoting a healthy living environment for the poor and the rich to work, relax or live in. Land can be subdivided and zoned for various uses. Live – work – play seems to be the trend for 2018 and the future. Another big thing in health is walkability.
Convenience – Meeting the needs of the community. Social, cultural, economic and public utilities would be needed to fulfill these needs. Again live work play.
Beauty – The attractiveness of the city. Making the city look appealing, meeting demands and keeping up with trends. Going green.
Steps in the Town Planning process
1. Identifying the issues that need to be addressed
2. Stating the goals and how to achieve them.
3. Data collection. Market research could be done by gathering data from the environment and economic studies as well as surveys and interest groups.
4. Plan preparation. Look at and review the possible site plans that have been submitted. Look at the feasibility of these proposals and see if there are any changes needed to be made. A recommendation would then need to be submitted on whether this should be denied or approved.
5. Community. Liaise with and present the plan to public officials, professionals and the community for review and comment (only once approved). This is done in newspapers, online, websites, social media and newsletters.
6. Evaluation alternatives. What impact does the proposal have on the city, town and community? Assessments and investigations are needed to be done. Impacting factors could be living conditions, traffic, the built environment and nature itself. The comment received by the community would need to be processed and addressed. Decisions on the way forward would need to be made with possible alternatives discussed.
7. Adopt and implement the plan.
Basically a town planner must be able to foresee, predict, address and interpret the changes and transformation that took place and successfully accommodate changes in order to carry out the plan
Duties of a Town Planner
Drafts and plans the departmental budget
Represents the town
Attends, staffs and plans board meetings
Prepares notices and documents
Takes minutes
Provides technical assistance
Establishes guidelines and plans
Zoning
Liaising with public officials, professionals and the public
Formulate and plan the city layout, street design and green spaces
I myself am not a Town Planner but I do follow the progress of building and construction related projects. I deal closely with the client, EIA consultant and Town Planner on early conceptual projects when it's just an idea. It's always do amazing to be able to watch the development unfold and the plan comes to life and molds our city.
I am currently researching and following the 30 new planned Mega Cities for Gauteng. Curenntly the Montrose Mega City is available on Leads 2 Business. This is a huge mixed use Mega city which includes residential, offices, public transport facility, a private and regional hospital, schools, a government complex and industrial and warehousing facilites. I can only imagine the hard work and planning that went into these mega cities and am lucky enough to be tracking the progress of these.
Source:
https://opentextbc.ca/projectmanagement/chapter/chapter-3-the-project-life-cycle-phases-project-management/
https://www.google.co.za/amp/s/theconstructor.org/construction/construction-project-life-cycle-phases/14283/amp/
https://study.com/articles/Become_a_Town_Planner_Step-by-Step_Career_Guide.html
http://www.dummies.com/home-garden/green-living/urban-planning-for-dummies-cheat-sheet/
https://www.wiley.com/en-us/Urban+Planning+For+Dummies-p-9781118100233
http://www.sparkjournal.net/blog/2013/2/4/a-beginners-guide-to-urban-design
https://blog.feedspot.com/urban_planning_blogs/
http://practicegroup.co.za/blog/
http://www.espoo.fi/en-US/Housing_and_environment/City_planning/Town_planning/Town_Planning_Process
http://www.imperial.ac.uk/estates-projects/project-procedures/processes/design-management/town-planning/
https://en.m.wikipedia.org/wiki/Comprehensive_planning
http://townplanninglectures.blogspot.co.za/2009/03/phases-of-planning-principles-of.html?m=1
https://www.langeberg.gov.za/directory/engineering-services/town-planning
https://www.urbandynamics.co.za/news/42-interested-in-town-planning-as-a-career.html
https://en.m.wikipedia.org/wiki/Urban_planning
https://www.wits.ac.za/course-finder/undergraduate/ebe/urban-and-regional-planning/
http://www.rtpi.org.uk/education-and-careers/become-a-planner/what-does-a-planner-do/
http://www.rtpi.org.uk/education-and-careers/become-a-planner/what-is-town-planning/
https://www.prospects.ac.uk/job-profiles/town-planner
https://study.com/articles/Town_Planner_Duties_Responsiblities_and_Job_Information.html
https://targetjobs.co.uk/careers-advice/job-descriptions/279463-town-and-country-planner-job-description
http://www.careerplanet.co.za/careers/construction-engineering-and-mining/environmental-engineering-and-town-planning/urban-and-regional-planner
https://www.careersadviceforparents.org/2014/12/what-does-town-planner-do.html
https://www.google.co.za/amp/s/amp.theguardian.com/cities/2014/nov/10/-sp-cities-town-planning-cool-architects
http://mediciproject.org/in-the-city-pt-1-what-is-urban-planning-and-why-do-we-need-it/
https://www.google.co.za/amp/s/www.devex.com/news/urban-planning-an-answer-to-today-s-city-demands-61827/amp
https://www.memun.org/SchoolsProject/Resources/zoning/planner_jobdescr.htm
https://www.villanovau.com/resources/public-administration/urban-planner-career-job-outlook/
https://www.truity.com/career-profile/urban-or-regional-planner
If you are interested in becoming one of our subscribers, please visit our website.
To view notes with screenshots on how to use our website, please visit our Wiki site.
To view more articles, please visit our blog.
I started my journey at Leads 2 Business in the Directory Department in 2012. I was then promoted to the Private Projects department in 2014 and have been working as the Regional Gauteng content researcher ever since.