5 Best Ways To Landscape Around Office Buildings

Welcoming Front Entrance
A vibrant, welcoming front entrance sets the stage for your office's whole environment. Your office building's main entrance is everybody's front door. It should be warm, inviting, welcoming. A poorly maintained, grey exterior won't be as appealing as a flower-filled, well maintained, inviting one.
The entrance is the first place people are going to see when they come to your building and therefore can improve your company's image and make employee's feel proud of the place they go to work every day

Some ideas for Office Building Front Entrances: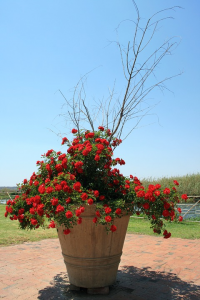 Planting Beds – Attractive planting beds are great for main entrances, around signage and any place you want to enhance visibility however should be low-growing varieties so they don't block your signage and that the varieties you plant are suited to the environment around your entrance. Don't underestimate the power of fresh plants, colourful flowers, rich mulch and a nice crisp edge.

Colourful Container Plantings – It's amazing what a beautiful plant can do to catch your attention, especially when in a unique container that increases your entrance's "wow" factor. There's a wide array of styles that can either match a building's style or colour or stand out to make a statement. Of course, what you put in the container matters too. You can also choose one substantial plant like a small tree or topiary; just make sure it's always perfectly trimmed.

Walkways – If your office building has old cracked concrete walkways, they're not only unsightly, they're a dangerous trip hazard. Consider replacing portions or entire stretches of walkways with pavers that can help break up the industrial look of a long stretch of concrete. Whether your staff and clients arrive at the front door on foot or by wheelchair, maintaining the walkway is paramount. Of course, you want to make sure your visitors don't hurt themselves and that the walkway is attractive, but it's also a liability issue.

Driveway – Your property may have a traditional parking lot, or it may have a driveway very close to the entrance. Perhaps your building's main entrance is on a cul-de-sac, with a drop-off area in front. To make the entrance more dramatic, consider using an island in the middle of the driveway as a palette, painting a picture with landscaping. Vary the landscaping height with tall and medium-size trees, and shorter shrubs as well as flower beds. Palm trees fit with the region but also don't block the building's view. Flowering shrubs add unexpected colour at different times of the year, while flowers complete the look at the base.

Signage – Every company wants their signage to be prominent and visible. Emphasise signage by planting flowers and other interesting plants around it. This will automatically draw the eye towards the signs and make them stand out more. Just make sure you keep everything trimmed so the plants don't obscure writing on signs. Colourful flowers, interesting grasses, bright spring bulbs all attract attention.
Seasonal Color Rotation
People notice colour. And what offers spectacular colour better than flowers? Change your colourful flowers with the seasons and you offer intrigue year-round. Summer colour is a given – but don't forget the other seasons. The great thing about flowers and plants is there's a host of choices for every season.
Interesting plants and colourful flowers make a huge impact at main entrances, around signage and any place you want to draw attention.
Different plants look good at different times of the year. When planning which plants to use, think about how the landscaping will look all year round. You don't want it to just look great in summer – the best landscaping is appealing at any time of year.
Outdoor Seating/Common Area
Create a space your employees will love. Boost worker morale by offering a peaceful, beautiful outdoor sanctuary area where employees can enjoy lunch, eat a sandwich, read a book, chat with colleagues or even hold an outdoor meeting. Outdoor meetings are increasingly common, and this kind of gathering spot is perfect for fresh-air brainstorming.
Seating can be simple picnic tables, stone benches or heavy outdoor furniture. Built-in sitting walls are great incorporated into a patio. Everybody appreciates privacy and shade so, therefore, don't forget trees for shade and flowers for colour and interest. Consider fragrant plants and flowering shrubs to offer a bit of pleasant scent in the air, this makes it a great place to escape and recharge in nature. Consider creating different spaces for socialising and quiet reflection to give people options when they are outside.
Providing wireless Internet at outdoor sitting and picnic areas can also expand the workspace, taking employees from their desks to the outdoors for work, as well as rest.
Water Features
Waterfalls and fountains are both great options, whether to attract passersby to an entrance, as water features always impress visitors, or incorporated into a common area for employees to enjoy.
Water features can be incredibly attractive and appealing and they add a nice feel to any outdoor landscape. The sound of running water is soothing and can be a great stress reliever for office employees. It relaxes and soothes away the stress of a busy work day and offers a bit of tranquillity in a hectic world.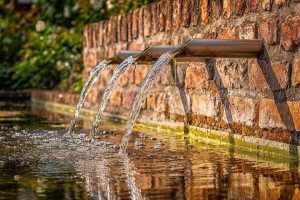 Even a simple fountain near the front door, in a courtyard or placed in your common area for employees to enjoy makes a big and memorable impact.
Don't Forget To Freshen Up
Landscaping can look a little boring after a few years of no change. Take a look around. Have you been staring at that same row of shrubs for years? Keep things looking updated and contemporary with new flowers and grasses. A fresh layer of mulch each year does wonders to keep beds looking tidy and well-tended. And, as it breaks down, it enriches your soil. Modern landscapes typically incorporate native plants and a lot of grasses that create movement.
To keep your landscaping looking its best you'll want to update it regularly and keep it maintained as an overgrown outside landscape won't reflect well on your building and could be a deterrent for potential clients.
Helpful hints to Freshen up
Identify key visual areas – Focus on highly visible areas as a good place to start for maximum visual impact. Working in smaller areas also enables you to better manage the tasks at hand and not get overwhelmed by working on the entire area at once.

Take inventory – Look long and hard at each and every component of your landscape and evaluate it objectively. Keep features and plants that still look good and serve a purpose and lose the stuff that doesn't.
Focus on impact – In a commercial landscape, bigger is usually better. Large elements such as commercial parking areas, retaining walls, and other features demand bigger, more colourful plants. The impact is all about size, colour, and diversity in plantings.
Focus on long-term maintenance – Carefully choose plants and features to fit the environment and its conditions. Plants that don't adapt easily to their surroundings will cost a lot more, in the long run, to maintain or replace.
Focus on people – Commercial landscapes and people interact in many different ways and so it's important to design and plant with people in mind: how will different areas look from different perspectives? What will people see when they first drive into the parking lot, walk on the sidewalk, and look out windows?
The challenge is to create a landscaped environment that is beautiful and appealing in its form while offering functionality and a solid return-on-investment.
Sources:
OutbackLandscapeInc
TheGardenContinuum
LevelGreenLandscaping
GreenearthLandscapes
Pixabay
enhance services
---
If you are interested in becoming one of our subscribers, please visit Leads 2 Business.
To view notes with screenshots on how to use our website, please visit Leads 2 Business Wiki.
To view more Events, please visit our Leads 2 Business Blog.
My journey with Leads 2 Business started in August 2005 in the Africa Tender Department, where I researched and uploaded Africa Tender Notifications. Once the Africa Tender Department had grown I was then promoted to Customer Relations in the IT Department in January of 2010, assisting subscribers and staff with any problems they may encounter or with any queries they may have.