Potholes and Pitfalls in civil engineering contracts

Potholes… an infrastructure issue that deserves a whole blog to itself! How often during your travels (be it your annual drive down to your favourite holiday spot, or your daily route to work) do you face the inconvenience of roadworks? I think all of us experience this from time to time. It goes on for months, sometimes even years. Finally, the works are completed and we breathe a sigh of relief. No more queues of traffic or uneven road surfaces, no more narrowing down to one lane. Phew! At last. A few weeks down the line…. a POTHOLE!!?? The blame gets shifted around quite a bit between all the parties involved in the contract, but where does the problem really lie?
I must admit. This blog title planted a new "anxiety seed" in my brain, and I found myself trying to put on a civil engineer's shoes (figuratively, not literally).
I follow the progress of numerous infrastructure projects (but not pothole repairs!) in the department that I work in – the Projects Department. Or more affectionately known as the PP office. A few months (usually about 3 months) after a Tender is advertised for a civil engineering contract, we follow up with the relevant contacts in order to obtain the awarded civil engineering company's details. We then contact the civil engineer and follow the design process, then the tender and construction progress, until the Project is complete. We do not delve too deep into the issues that may be presented during or after the life-cycle of the project, however, we do try to ascertain if or how those problems will affect the time frame of the development.
During my research for this topic, and on more than one occasion, education and training seemed to be a major area of concern when looking at civil engineers in the public sector. South Africa's public sector appears to have very few professionally registered civil engineers and some of the engineers are placed in positions without possessing the required skills and experience. This could lead to errors in proposals when tendering for contracts and can have serious consequences.
Numerous failed infrastructure projects throughout South African history must surely be making things a bit more difficult for companies to win civil contracts. I would imagine that quality standards have been raised in order to improve public health and safety. These standards would hopefully be imposed on both engineering and construction firms, as both (among other professionals) are just as important in the quality of the completed project.
One example of a failed project is the collapse of the P166 bridge over the N4 in Mpumalanga in 2009. The beams collapsed and blame was shifted between a speeding truck which caused vibrations while travelling under the bridge, to vibrations caused by jackhammers and manufacturing errors. Another concern was the amount paid for the beams – it was substantially lower in comparison to what other engineers said the beams would usually cost. Sub-standard materials constitute a huge issue and can end in disaster.
The Foreshore Freeway Bridge in Cape Town is a well-known incomplete road structure. The bridge was designed in the 60s, and in the early 70s construction commenced. Construction was halted in 1977, apparently due to a lack of funding. However, rumour has it that there was an error in calculations during the design phase and that the two ends of the bridge would fail to meet!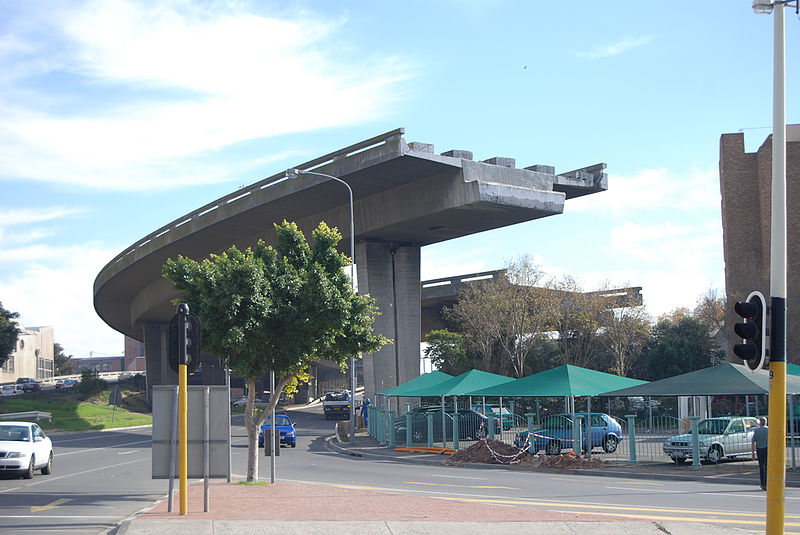 By Flickr user Paul Mannix – https://www.flickr.com/photos/paulmannix/552103944, CC by 2.0, https://commons.wikimedia.org/w/index.php?curid=46305687
Perhaps one of the most spectacular bridge collapses in the world was that of the Tacoma Narrows Bridge (also nicknamed Galloping Gertie) in the USA, over 76 years ago due to strong winds. The design of the suspension bridge did not allow wind to pass through the sides, causing the bridge to sway and eventually collapse. It only stood for about 4 months after completion before disaster struck. Lessons have been learned and the way in which future suspension bridges are designed, have changed. The parts of the bridge that plunged into Puget Sound have formed a man-made reef, which is protected by the National Register of Historic Places. Click here to see the video, and to see where the bridge got its nickname.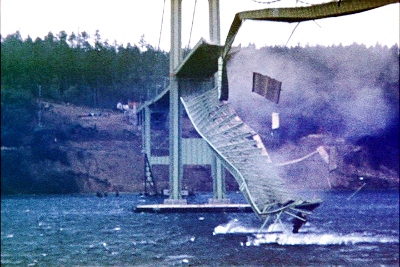 By Barney Elliott; The Camera Shop – Screenshot taken from 16MM Kodachrome motion picture film by Barney Elliott, Fair use, https://en.wikipedia.org/w/index.php?curid=23093518
Project failures, such as the ones I have mentioned above, can cast a dark shadow over the industry – an industry which is partly responsible for ensuring that our country's infrastructure withstands time, utilising taxpayer's money in a responsible manner. It is critical that we recognise the importance of skilled civil engineers and that employees of the profession look to improve their skills if given the opportunity.
Don't get me wrong, we have some excellent civil engineering structures on our continent. The Maputo / Catembe Bridge, a 680m suspension bridge standing 60m over the water between Maputo and Catembe, is just one example to prove that: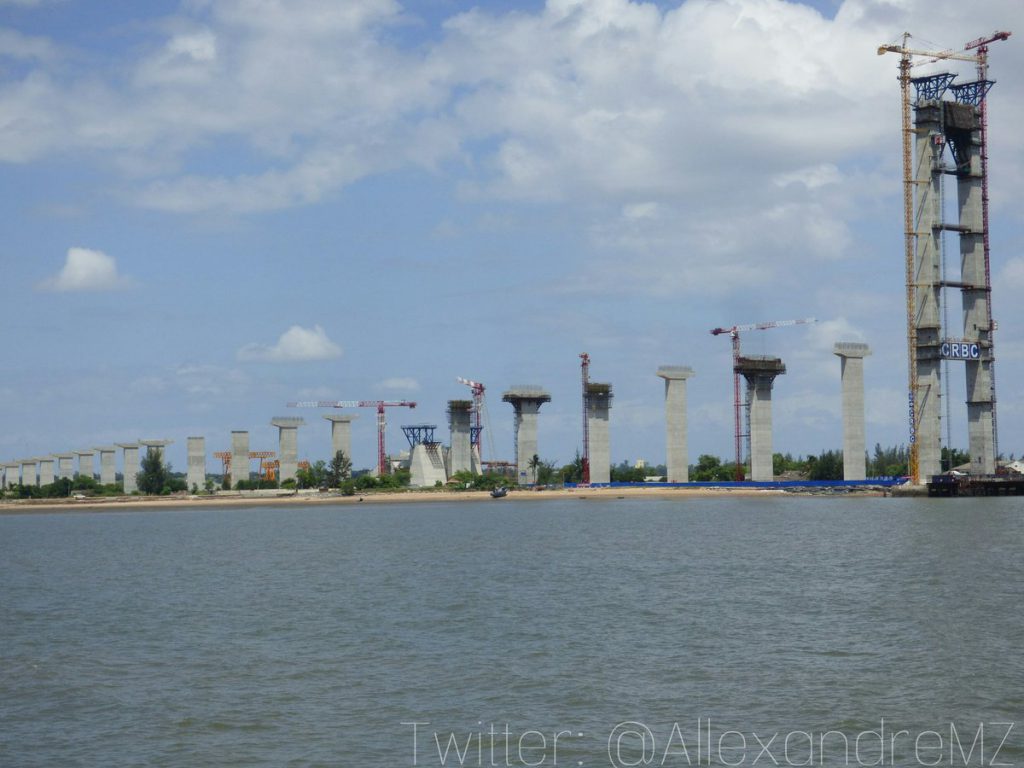 Sources:
https://www.businesslive.co.za/fm/features/2017-03-16-cracks-in-the-walls/
http://www.lowvelder.co.za/index.php…news&Itemid=98
https://en.wikipedia.org/wiki/Tacoma_Narrows_Bridge
https://en.wikipedia.org/wiki/Foreshore_Freeway_Bridge
http://journals.co.za/docserver/fulltext/civeng/24/2/civeng_v24_n2_a13.pdf?expires=1493899313&id=id&accname=guest&checksum=2EB4C398FA20074700668F139373D9BDhttp://www.africaranking.com/top-10-longest-bridges-africa/3/
I had the privilege of joining the Leads 2 Business content team in January 2012. I work in the exciting Projects department, following the progress of construction developments in KwaZulu-Natal and the Free State.