Mining in Africa has a long history. For over 2000 years iron ore and other metals have been mined in North Africa. Iron mining began in sub-Saharan Africa around 500 BC and had spread throughout the region by 200 AD.
The African continent is home to plentiful natural resources including diamonds, cobalt, oil, natural gas, copper, and gold among others.
Some examples of African countries that are rich in minerals are:
Niger – rich in uranium, coal, cement, and gold (PPA 16847: The Madaouela Uranium Project, Niger)
Namibia – rich in uranium, diamonds, zinc, lead, sulphur, salt, tantalite, and copper (PPA 23396: Hagenhof Copper Cobalt Project, Namibia)
Democratic Republic of Congo – rich in copper, cobalt, diamond, oil, coltan, gold, and tin (PPA 19431: Kamoa-Kakula Project, DRC)
Zambia – rich in gold, copper, emerald, uranium and cobalt (PPA 23526: Pangeni Copper Project, Zambia)
South Africa – rich in diamonds and gold (PPA 4394: Venetia Diamond Mine, Limpopo)
Mozambique – rich in coal and aluminium (PPA 9162: Ncondezi Coal Project, Mozambique)
Guinea – rich in bauxite and gold (PPA 14746: Tri-K Gold Project, Guinea)
Tanzania – rich in tanzanite, uranium, gold, diamonds, and silver (PPA 13651: Panda Hill Niobium Project, Tanzania)
Ghana – rich in gold, bauxite, diamonds, manganese, crude oil, silver, and salt (PPA 18070: Namdini Gold Project, Ghana)
Botswana – rich in diamonds, copper, coal, soda ash and nickel (PPA 11481: Khoemacau Copper Project, Botswana)
| | |
| --- | --- |
| Venetia Diamond Mine, Limpopo | Khoemacau Copper Project, Botswana |
Some fun facts:
Around 55% of the world's diamonds are led by Botswana and Congo
Africa produces about 483 tons of gold which equate to 22% of the world's total production
60% of mining in Africa is Gold Mining.
Africa hosts 30% of the world's mineral reserve.
South Deep gold mine is the largest gold mine in the world, by reserves. Located 45km south-west of Johannesburg in the Witwatersrand Basin, South Africa, South Deep is also the seventh deepest mine in the world, with a mine depth up to 2,998m below the surface.
The Mponeng Mine located south-west of Johannesburg in South Africa is currently the deepest pit in the world.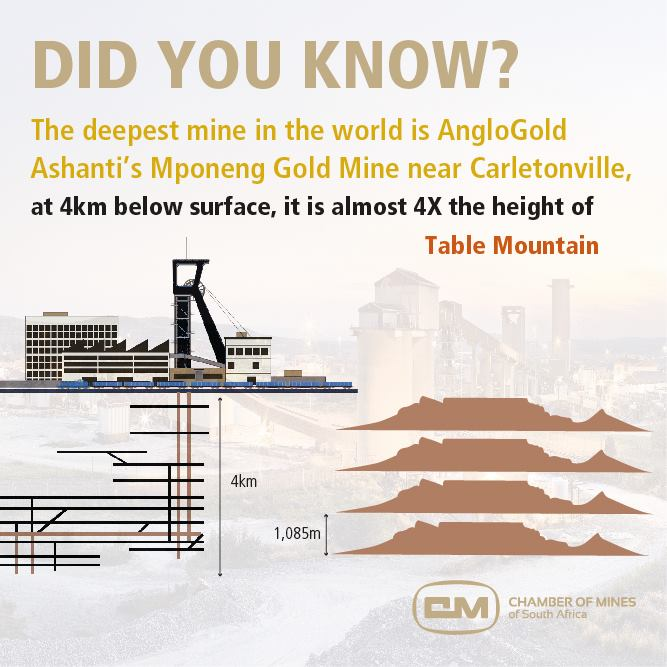 Botswana heads Africa's list of diamond miners, housing seven well-established mines including Jwaneng, the world's richest in terms of value, Orapa, the world's largest by area, along with Karowe and Letlhakane.
Ghana has cemented its position as Africa's largest gold producer after increasing its industrial gold output by 6% in 2019.
The Big Hole in Kimberley is considered one of the deepest cavities excavated by man. From mid-July 1871 to 1914, 50,000 miners dug the now famous Big Hole (then called the Kimberley Mine) in Kimberley with picks and shovels yielding 2 722 kilograms of diamonds. The hole has a surface of 17 hectares (42 acres) and is 463 meters wide. It was excavated to a depth of 240 meters, but then partially infilled with debris reducing its depth to about 215 m. Since then it has accumulated water to a depth of 40 meters, leaving only 175 meters visible.
The word "Diamond" comes from the Greek word "Adamas" and means "unconquerable and indestructible"
To produce a single one-carat diamond, 250 tonnes of earth needs to be mined
The Cullinan Diamond was the largest gem-quality rough diamond ever found, weighing 3 106.75 carats (621.35 g), discovered at the Premier No.2 mine in Cullinan, South Africa, on 26 January 1905.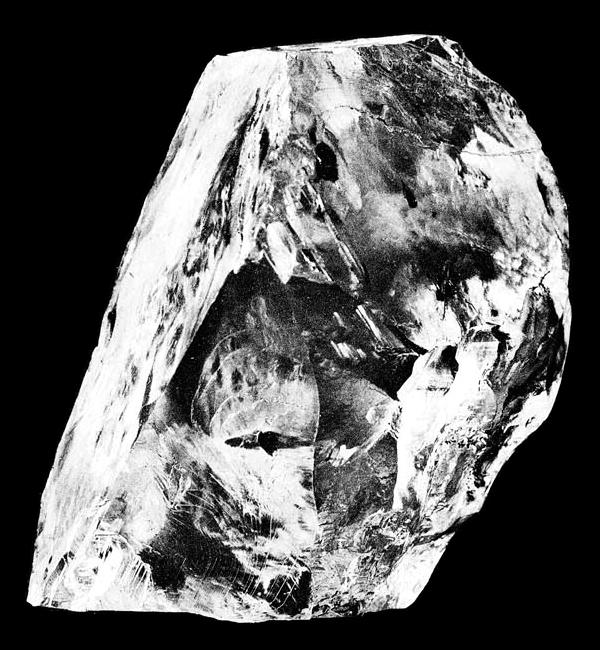 Leads 2 Business currently has 417 active mining projects on our database and growing.
Should you wish to subscribe to receive and follow mining project leads, please feel free to contact me MelanieM@L2B.co.za.
---
To view more Articles, please visit our Leads 2 Business Blog.
If you are interested in becoming one of our subscribers, please visit Leads 2 Business.
To view notes with screenshots on how to use our website, please visit Leads 2 Business Wiki.
One girl who would rather wear boots than high heels...