CIDB Grading (How it works)

Today, I will be chatting about CIDB and how it works. Yes, I know…CIDB, what? Let me assure you that when I first started at Leads 2 Business I had no clue what CIDB was, what it stood for or how it even worked. Rest assured though, I will go slow.
Definition: CIDB
Construction Industry Development Board. Big words, I know, but all it means Construction companies that are required to be registered to CIDB for numerous types of construction work. That is correct. So if you are an owner of a Construction Company and you are applying for tenders, you need to be registered under the Construction Industry Development Board in order to qualify for the necessary requirements for a tender.
Many times in the Construction Industry, when Municipalities are advertising tenders, one of the requirements are being registered under CIDB.
Alright, now that we know what CIDB is, let us have a look at the CIDB Class of Construction works that fall under CIDB. There are about twenty different Classes of Construction Works. Do not worry…I will not bore you with all the details. I am simply going to list them:
Class of Construction Works:
GB – General Building
CE – Civil Engineering
EB – Electrical Engineering Works – Building
EP – Electrical Engineering Works – Infrastructure
ME – Mechanical Engineering
SB – Asphalt Works (Supply and Lay)
SC – Building Excavations, shaft sinking, lateral earth ear support
SD – Corrosion Protection (cathodic, anodic and electrolytic)
SE – Demolition and Blasting
SF – Fire prevention and Protective systems
SG – Glazing, curtain walls and shoplifts
SH – Landscaping, irrigation and horticulture works
SI – Lifts, escalators and travellators (installation, commissioning and maintenance)
SJ – Piling and Specialised foundations for buildings and structures
SK – Road marking and signage
SL – Structural steelwork fabrication and erection
SM – Timber buildings and structures
SN – Waterproofing of basements, roofs and walls using specialised systems
SO – Water Supply and drainage for building (wet services, plumbing)
SQ – Steel security fencing or precast concrete
Now we are going to take a look at the Values of the Rating for CIDB gradings.
Here they are:
CIDB 1: R 0 – R 200.000
CIDB 2: R 200.00 – R 650.00
CIDB 3: R650.00 – R 2 Million
CIDB 4: R 2 Million – R 4 Million
CIDB 5: R 4 Million – R 6.5 Million
CIDB 6: R 6.5 Million – R 13 Million
CIDB 7: R 13 Million – R 40 Million
CIDB 8: R 40 Million – R 130 Million
CIDB 9: R130 Million Plus
Okay, that was quite a mouthful. The Class of Construction works is basically an indication of what your business does.
Now we will take a look at how your company determines their grading. This is called the Grading Designation Calculator and can be done on the CIDB Website. All that is required of your business is the financial documents. Well, you are looking at your Profit and Loss for the Financial Year, the largest contract value that was awarded to your company and you will also need the capital value of the business.
Below is an example of a how a Grading Designartion Calculator is done. Trust me, it really simple and just takes a few minutes: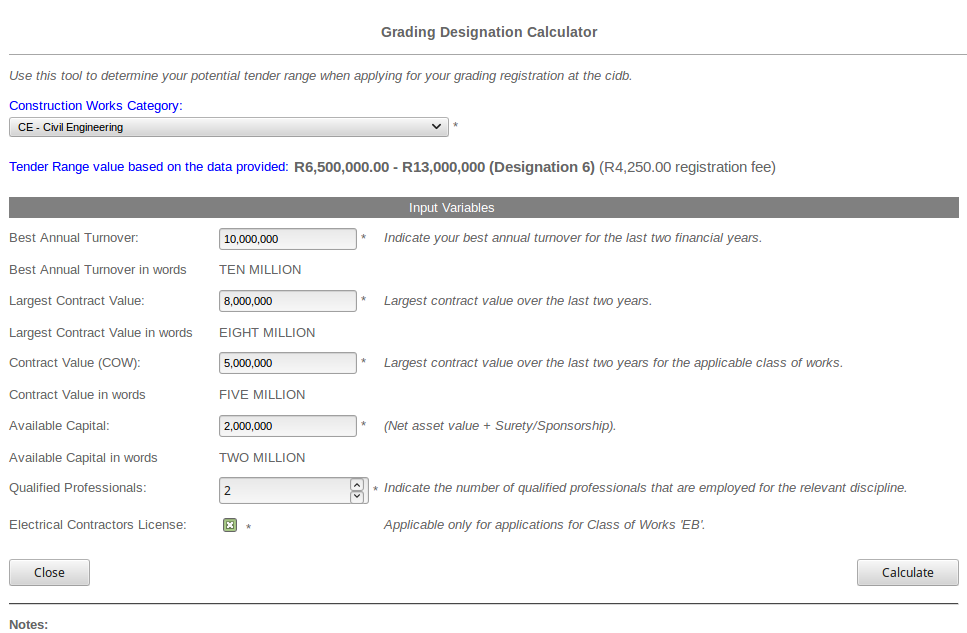 Please note that the CIDB is only for Construction Companies that do Construction work for non–residential areas. That would be your Office Buildings, General Building and Maintenace of government property (Hospitals, Fire Stations, Municipal Buildings, etc).
Construction companies that deal with Residential areas, your company has to be registered under the National Home Building Council (NHBRC). The NHBRC is very different from CIDB in the sense that, the Construction Company has to prove to the NHBRC the number of houses they have built to date.
To register on CIDB, it is very simple. All you need to do is submit an application and select the applicable Grade. The construction company also needs to indicate the maximum value of work permissible in their registered grading level. There are different requirements for track record and financial capability depending on the grades and classes. The application criteria need to meet both the requirements in order to satisfy the grading assessment criteria. The CIDB Provincial Offices offer free help desk support to contractors.
The application only takes 21 working days to be registered. The 21 day waiting period is the turnaround time for applications that are complete and compliant with the requirements of the grade the contractor is applying for. Grade 1 applicants only take 48 hours to be processed and for registration to reflect on CIDB. Once the 21 working days have passed and the contractor is compliant, the contractor is then registered on the CIDB website and now have access to tender opportunities that are in their CIDB grading. In order to register you can go to the CIDB Website: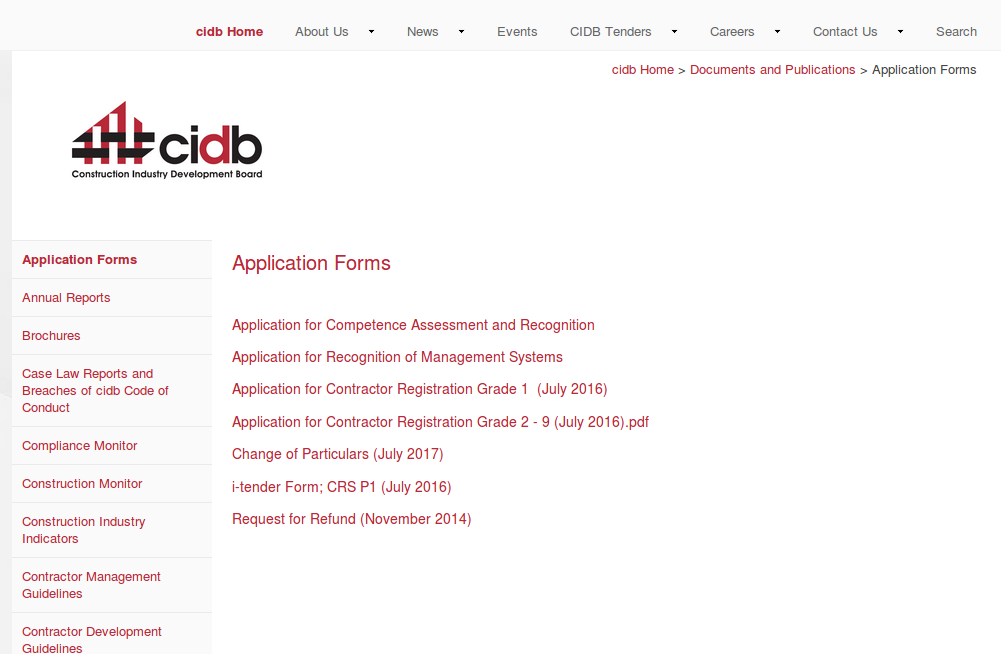 Note: Your registration expires after 3 years
CIDB also publishes tenders that have been awarded on the system. That would mean if a contractor has applied for a specific tender, and once that tender has been awarded, one of the first places it gets published is on the CIDB website. Here, the name of the Awarded Company has listed as well as the contract value and the contract period. Below is an example of what the Award Information looks like: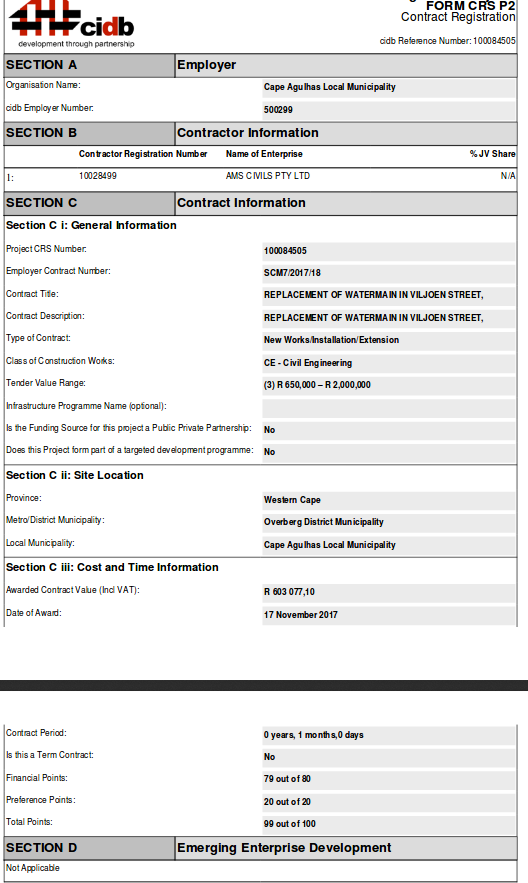 Alright, so that concludes my discussion for the day. I must admit that it was quite fun sharing my information with you today. I can only hope that somewhere out there, a subscriber has learned something new today, I know I did.
Sources:
http://registers.cidb.org.za/PublicContractors/GradingDesignationCalc
http://registers.cidb.org.za/PublicTenders/TenderSearch
http://www.cidb.org.za/publications/Pages/Application-Forms.aspx
If you are interested in becoming one of our subscribers, please visit our website.
To view notes with screenshots on how to use our website, please visit our Wiki site.
To view more articles, please visit our blog.
I am a Content Researcher for the Western Cape Region in the Daily Tenders Department.