Building Design & Construction: Interesting Buildings & Structures

Building Design & Construction: Interesting Buildings & Structures
Over the ages, there have been many buildings and structures built that have an absolutely amazing design. Some of these buildings and structures have withstood the test of time in ways that newer buildings / structures have yet to experience and only time will tell if they will be able to withstand the forces of nature. Today, I am having a look at some of these brilliant buildings and structures that have captured my imagination.
Bridge of Eggs, Lima, Peru
Puente de Piedra (the Bridge of Stone), was built around 1610 by the architect. Juan del Corral, and is referred to as the Bridge of Eggs, due to the belief that the mortar was mixed with egg whites as opposed to water. The bridge is still standing today.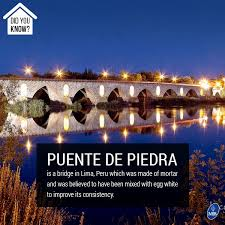 Photo Credit: Mangal Home Builders
References: Wikipedia, Did You Know?
Cathedral of Brasília(Catedral Metropolitana Nossa Senhora Aparecida), Brazil
The Cathedral of Brasília (Portuguese: Catedral Metropolitana Nossa Senhora Aparecida, "Metropolitan Cathedral of Our Lady of Aparecida") is the Roman Catholic cathedral in Brasília, Brazil, designed by Oscar Niemeyer. Construction started in 1958 and was completed in 1970.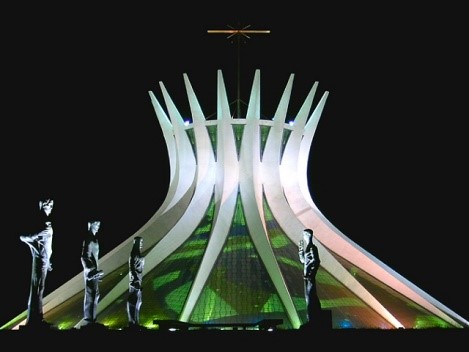 Photo Credit: Author – Victor Soares – ABr
References: Wikipedia, Most Amazing Facts.
Yunak Evleri Cave Hotel, Urgup, Cappadocia, Turkey
Yunak Evleri is a 5-star hotel built into ancient Turkish caves that were carved out of the rocky hills. The combination of the renovated caves (7) with the private cave rooms (40 in total), dating back to the 5th and 6th century, capped by a 19th century Greek Mansion, would entice anyone to go exploring.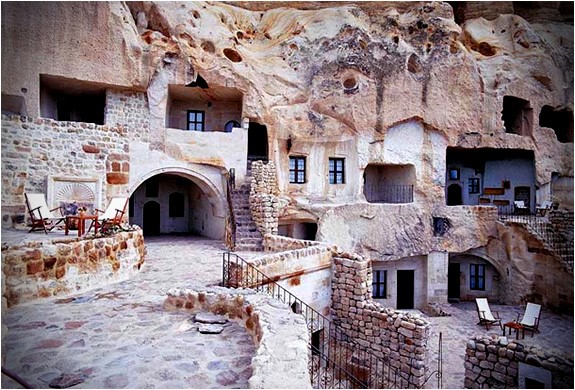 Photo Credit: Yunak
References: Yunak, Most Amazing Facts
Air Force Academy Chapel, Colorado, United States
Construction on this amazing building started in 1957 and it was completed in 1962. Designed by Walter Netsch of Skidmore, Owings and Merrill and constructed by Robert E. McKee, Inc., it provides the following worship areas: Protestant chapel (Protestants), Catholic chapel (Catholics), Jewish chapel (Jews), Buddhist chapel (Buddhists), Falcon Circle (Followers of Earth-Centered Spiruality, which includes Wicca, Paganism and Druidism) and All-Faiths rooms (these are for smaller religious groups and faith specific accoutrements are available for use).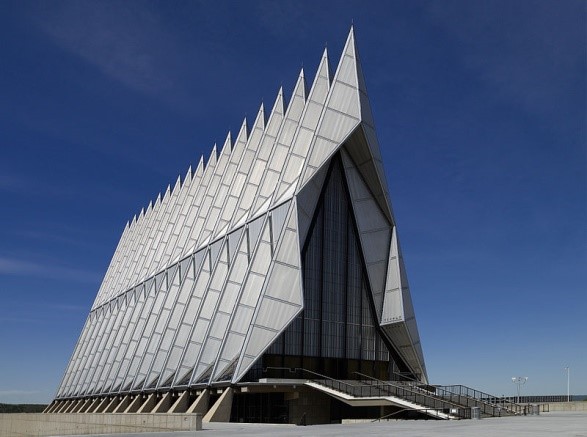 Photo Credit: Author – Carol M. Highsmith's America, Library of Congress, Prints and Photographs Division
References: Wikipedia, Docomomo-US, Most Amazing Facts
Eiffel Tower, Paris, France
Of course, one of the most famous buildings in all of time, is the Eiffel Tower. Gustave Eiffel, whose company designed and built the tower, also became the namesake. Construction started in 1887 and was completed in 1889.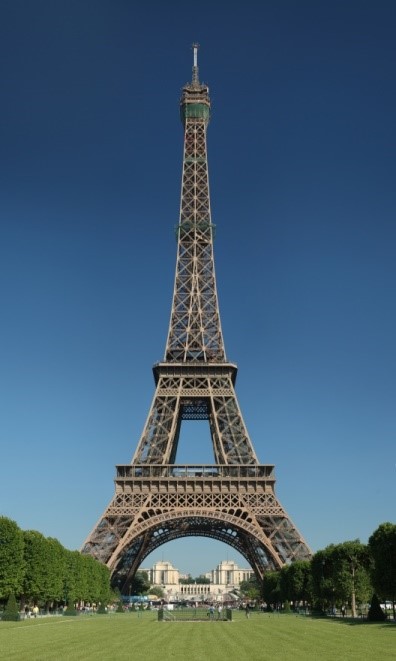 Photo Credit: Benh LIEU SONG (License)
References: Wikipedia
Fallingwater House, Pennsylvania, United States
Architect, Frank Lloyd Wright, designed this astounding house for Liliane and Edgar J. Kaufmann in 1935. Construction started in 1936 and the main house was completed in 1937. In 1966 it was designated a National Historic Landmark. The Lego product range, Lego Architecture, features Fallingwater as a landmark set.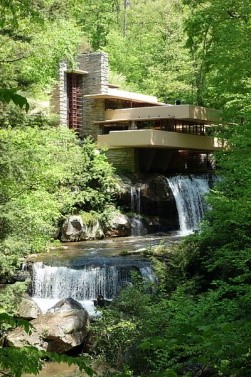 Photo Credit: Author – Daderot
References: Wikipedia
La Sagrada Família, Barcelona, Spain
This minor basilica was designed by Antoni Gaudi and construction commenced in 1882. Due to reliance on private donations and being interrupted by the Spanish Civil War, it has an anticipated completion date of 2026.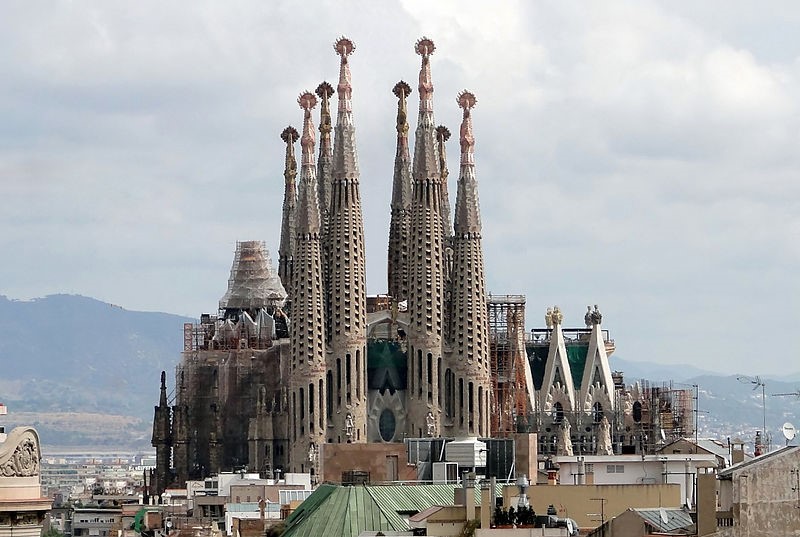 Photo Credit: Author – Bernard Gagnon
References: Wikipedia, Most Amazing Facts
The Big Pineapple, Bathurst, South Africa
Built between 1990 – 1992, the Big Pineapple is a tribute to the agricultural success of the fruit in the region. It is almost 20m high and has three floors.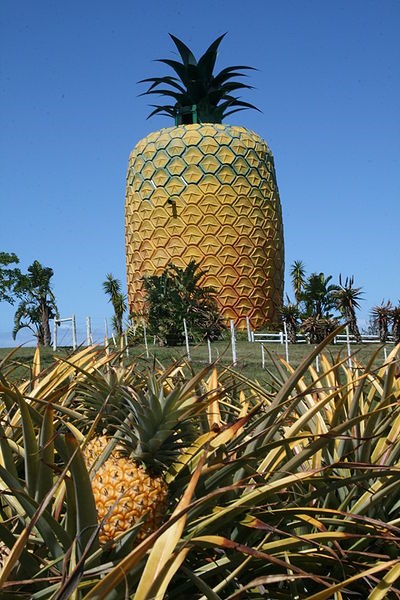 Photo Credit: NJR ZA
References: Buzz South Africa, AGU Blogosphere
The Shoe House, Abel Erasmus Pass, Mpumalanga
Ron van Zyl designed and built this house for his wife, Yvonne, in 1990. Today the house is a Museum and also includes a chalet guest house, restaurant, bar, a camp site, curio shop and pool.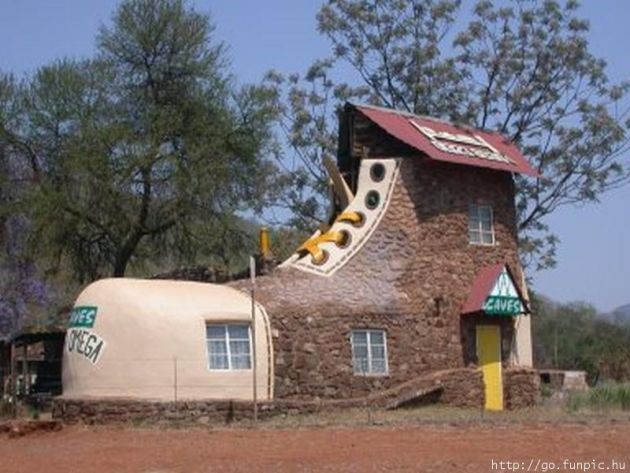 Photo Credit: FunPic
References: Buzz South Africa, Traveler's Log.
Alice Lane Towers, Sandton, South Africa
Designed by Paragon Architects and completed in 2010, this is definitely one of the most beautiful buildings I have seen. This is the first high rise building with a curved façade, being completely glazed and made from low energy glass and utilising glass printing technology.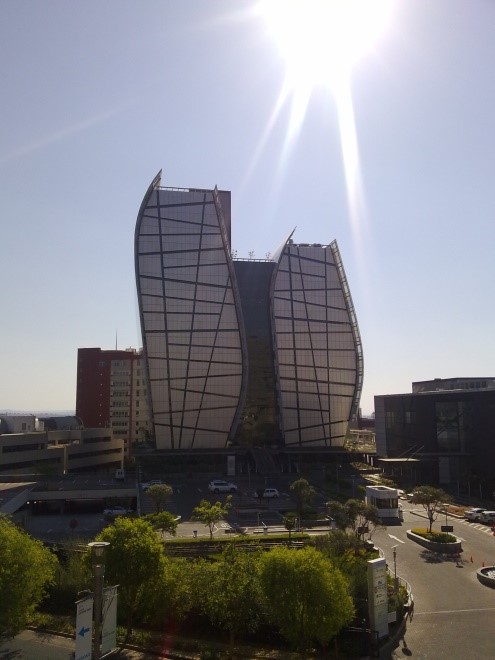 Photo Credit: Wikipedia
References: Wikipedia
These are some of the structures and buildings which have caught my interest, but there are still so many other amazing, popular, strange and fantastic buildings and structures in the world.
Do you have any that have caught your interest?
Feel free to leave a comment.
If you are interested in becoming one of our subscribers, please visit our website.
To view notes with screenshots on how to use our website, please visit our Wiki site.
To view more articles, please visit our blog.
I joined the L2Q Team in 2006, as a L2Q Support Assistant and have been the HOD since 2010. I supervise L2Q Bills, Daily Tender Bills, Control Lists and Directory.