Machu Picchu was discovered in 1911 by the American historian Hiram Bingham. "Discovered" has now been replaced with "brought to international attention", rightfully so, since you can't very well discover a place that the locals are using as grazing for their alpacas. And there are maps that reference Machu Picchu from around 1874. The 15th century Inca site sits 2430 metres above sea level, in the Cusco region of Peru. It is very much a stone city on top of a mountain. It's believed to have been built for the Inca emperor Pachaputi (1438 – 1472), but nobody really knows why. It was abandoned about a century after construction, and managed to survive the Spanish Conquest (since the Spanish didn't know it was there). Apparently, all six roads leading into Machu Pichu were destroyed and who exactly is going to notice a giant city on top of a mountain during a Conquest? People are busy during conquests, what with spreading disease, pillaging and general rude behaviour. About thirty percent of Machu Picchu has been restored, allowing for a better idea of what the city looked like back in the day and restoration continues.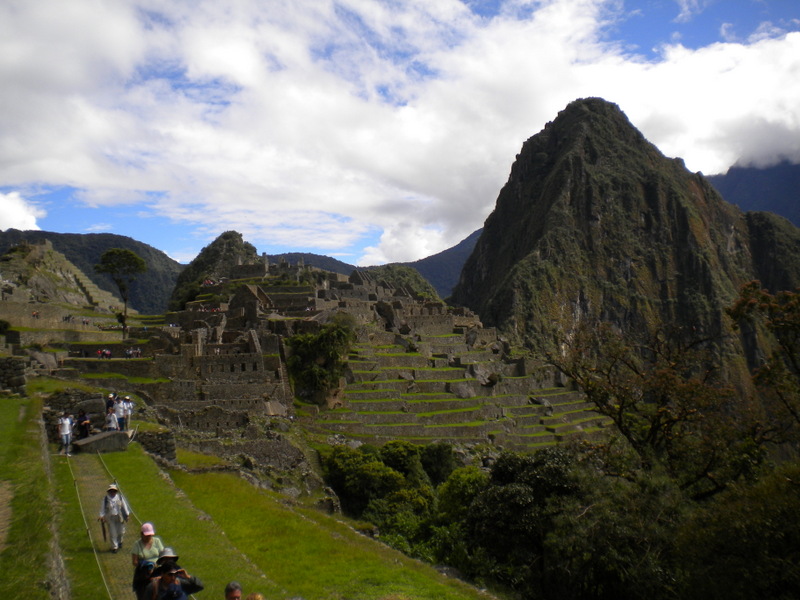 [tweetthis]About 500 people are allowed on the Inca Trail, leading into Machu Picchu, a day.[/tweetthis] 500 people including guides, porters and tourists. Apparently, it's a bit difficult to get tickets. I only realised this days away from my Inca Trail trek, when my friend confessed she'd only agreed to the trek since she didn't think we'd get tickets. Well, we did. I've always wanted to see Machu Picchu. To say it was on my bucket list would be an understatement. You can do the four day trek (hell, no!) or the day trek which meant hopping off the very comfortable Inca Rail train at the 104km mark at 08:00 in the morning, and walking to Machu Picchu over the next 8 hours. There was trepidation. Peru is not a flat country. At all. My overall impression of the place is stairs and more stairs. Half constructed houses, that is the next generation's responsibility to finish and awesome avocados. Seriously, their food and produce were fantastic. Mielies the size of my head and a ridiculously large selection of potatoes. There's like 3000 varieties of potatoes in Peru. Who needs that many?! And the coca tea. O the coca tea. This was a lifeline in the shadow of altitude sickness. I digress.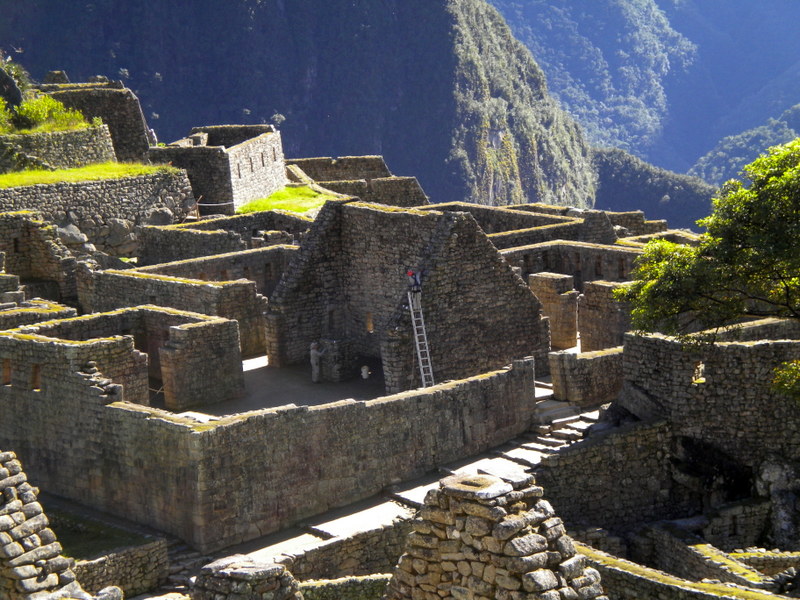 Anyway, so we marched it up to Machu Picchu. We had two guides with us, Ruth and Ruti. Ruth took the lead, and Ruti stayed at the back. With the oxygen. I was at the back (no, I didn't need the oxygen), keeping up the rear as usual. Gentle incline, and then stairs, gentle incline and then more stairs. Waterfalls. Butterflies. Beautiful scenery, with mountains crowding each other and the river so very far below. Trying to keep track of how far we had come, and how far we had to go was truly bizarre. The scale is baffling. Everything is green and lush and vast. Beautiful. I noticed. In between the wheezing and side clutching, and the leg cramps and beating down sun and the unidentifiable rustling in the bushes. We were in the jungle after all. That day we reached the Sun Gate (Inti Punku) and looked across to Machu Picchu. Hazy and still so far away. It's about 45 minutes walk from the Sun Gate. [tweetthis]The road we'd walked had been run by messengers, when Machu Picchu was occupied.[/tweetthis] We rested in the shelters where they had stopped to pass the messages on. Our tickets didn't allow for entrance into Machu Picchu that day. It was late and we were sweaty and gross. Feeling accomplished, but still gross. Random thing I noticed, there were only two loose stone pavers on the road we walked. Only two.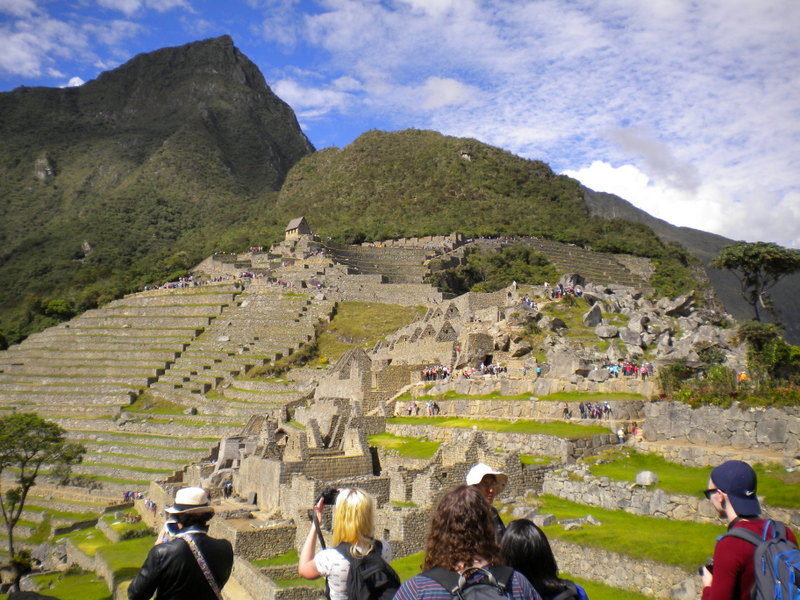 The next day, after a bus ride that was more switchback than anything else, we got to go into Machu Picchu. Our guide giving us a basic run down of the city. Basically, not much is known. It was abandoned and no one really knows why. About a 1000 people could inhabit the city. It could've been built for strategic or tactical reasons, or as a holiday resort for the Inca Emperor. There's water and the terraces (which are everywhere) could grow enough food to feed the population. It's a mystery. But it's there. The smooth stones, and rounded walls. The single storey and double storey houses. There's a quarry from which the granite was mined. The windows are trapezoid in shape. Better to survive an earthquake. Peru has lots of earthquakes, and a surprising number of active volcanoes. I was sitting in the shade of a stone wall, listening to our guide and he said something that I thought was quite strange. He mentioned the alien theory for the construction of Machu Picchu. I thought it was weird since when would an official guide give time to such nonsense. But it got better. He had a reason why aliens couldn't have built Machu Picchu. He pointed out a wall "Aliens didn't build Machu Picchu. Look, this wall is falling down". Now, my sarcastic nature took over and I mumbled "What, aliens can't make mistakes?". Not exactly helping international relations on my side. Now I don't for a second think anybody but the local people built Machu Picchu, just like the local people built the Pyramids in Egypt and the local people built Great Zimbabwe. But standing in front of that shifting wall, I couldn't help but imagine the scene.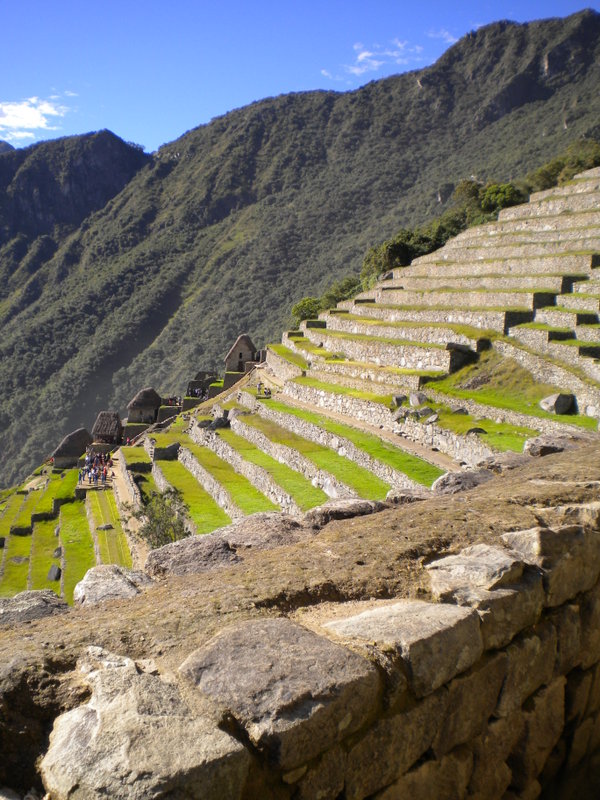 Inca Emperor Pachaputi calls his Project Management team together and explains that he wants a new city. The suggestions are flowing, but he knows what he wants. He wants a city on top of a mountain. Technically, on top of a mountain in the saddle between two mountains. No biggie. The frozen smiles and sweaty brows. Someone had to design it (architect) and someone had to figure out how to build it (engineer) and someone had to deal with those two (contractor). The polite suggestions of other locations. The polite consideration and dismissal of said locations. The realistic problems of logistics and access and water and manpower, being politely listened to and considered and dismissed. Since after all, human sacrifice wasn't completely off the table back in those days. I'm thinking the local chicheria [definition: Place that sells chicha, a fermented or non-fermented beverage derived from maize. Usually] was totally frequented that night. Chicha is sold in half litre glasses. Giant tumblers, people. Giant. I can imagine a lot of head holding and commiserating with strangers going on. Or perhaps that's not how it played out. Perhaps it was the complete opposite.
Inca Engineer says "So what's it going to be?"
Inca Architect replies "Mountain top city"
"Again?!"
"Again".
Inca Engineer whines "But it'll be the third one this year. I'm so bored of building cities on mountains. Can't we do something new? Like a nice estate in a valley? Ooo sea level"
Inca Architect shrugs "What can I say? The Inca loves his cities on mountains".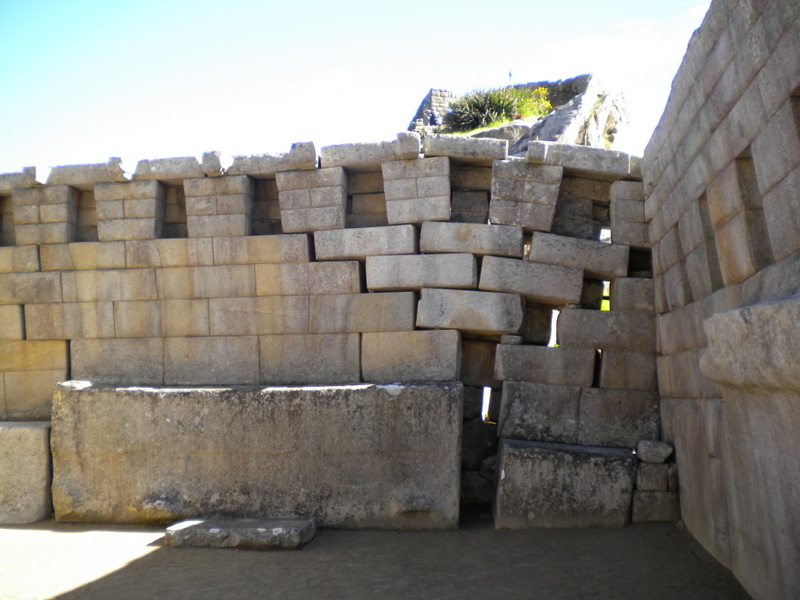 But is that really a good enough reason to contribute one of the most fantastic pieces of construction on the planet to humans – because part of it is falling down? Way to go human race, we can't take credit for anything unless it's blatantly faulty. I'm sure there's a life lesson in there somewhere. And can you imagine the pressure the poor aliens must be under. They've inadvertently created this expectation of perfection. So much so that we doubt our own involvement and attribute any massive structure to little green men.
Alien Architect asks "What's this?" pointing a long decidedly alien looking finger of a greenish hue at a photo.
Alien Engineer Bob replies "Um…"
"Bob. You realise we are trying to share knowledge by example here. We're are trying to demonstrate our superior skills and expertise. We can't just say we know better; we have to show the humans. By blowing their minds, with massive building projects on an impressive and totally unnecessary scale. And what I have is a wall sliding off its foundations!! What do you have say for yourself?"
Alien Engineer Bob "Um… have you heard of a drink called chicha?"
"…[Intergalactic facepalm]".
I loved Machu Picchu. I loved the fact I got to go there. I loved what it represented. Achievement and a strange immortality. Someone said build it, and it got built. Skills and knowledge were applied years ago, and their city still stands. And is marveled at daily. It's really no different from any new project set out today. An idea turns into plans, which turns into execution and accomplishment and completion. The intangible made real. I've always considered construction as a way to live forever. An indelible mark on the landscape and history, whether for function or beauty, necessity or whim. Our challenges are our own, and so are our victories. We need no help from little green men.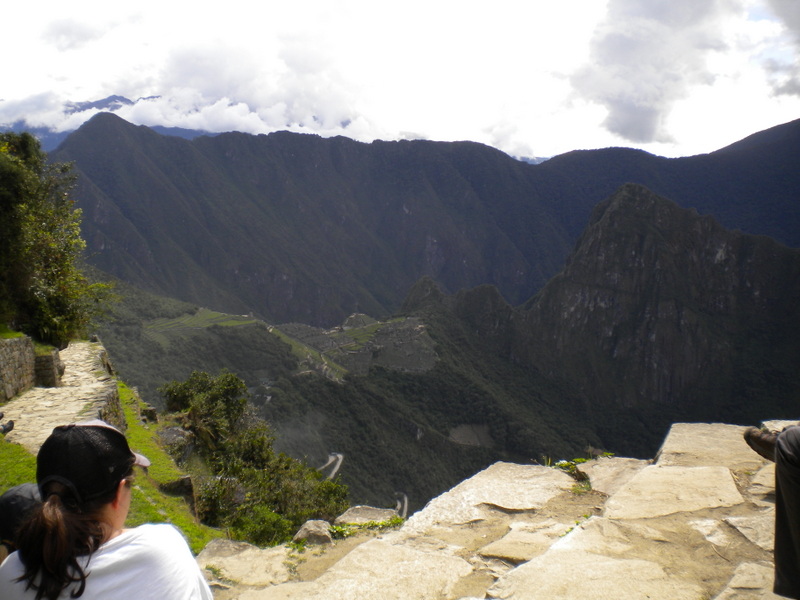 I started working at Leads 2 Business in February 2005, and have served as Head of Department of Daily Tenders from 2007 until the present. I oversee both the Daily Tenders South Africa and Africa Departments.