CSD – How, Where, Why to Register

CSD stands for Central Supplier Database. It came into effect in April 2016. Basically, if you want to participate do business with the South African Government and its entities, you are required to be registered on the CSD.
Below is from the CSD website:
What is the CSD?
The Central Supplier Database (CSD) is a single database that will serve as the source of all supplier information for organs of state. The supplier information will be verified with institutions such as the South African Revenue Service, Companies and Intellectual Property Commission, Department of Home Affairs etc. All suppliers will be required to complete the required information on the CSD website and must ensure it is complete, accurate and comprehensive.
What do I need to register on the CSD?
Depending on the supplier type, the following would be amongst the required information:
A valid cell-phone number to receive a One Time Pin (OTP);
A valid email account;
Supplier identification information e.g. identification number or company registration number or trust number, etc.;
Industry classification information;
Supplier contact information e.g. preferred contact name, email address, cell-phone number, telephone number etc.;(Note: Please ensure that you provide all relevant numbers where available i.e. telephone number (landline), cell-phone number, fax number, toll-free number, website address. This is to enable the Organ of State practitioners to reach you when intending to contact you for procurement purposes) ;
Supplier address information e.g. country, province, municipality, city, suburb, ward, and postal code;
Bank account information if relevant to ensure future payments; (Note: It is critical to refer to the banking FAQ on the OCPO website prior to capturing your bank information. Verification against the banks may take up to four (4) days, please complete this information in advance to prevent payment delays);
Supplier tax information if relevant;
Directors/Members information, e.g. name and identification number of directors, members etc.;
Commodities the supplier can provide; (Note: commodities need to be captured accurately as they are used by the Organ of State practitioners to search goods and services required by them. The delivery locations of commodities must be accurate to prevent you from not responding to request for quotations sent from practitioners in areas where you do not supply commodities); and
Accreditations the supplier is associated with e.g. CIDB, SETA, SANAS etc. if relevant.
How do I register on the CSD?
You are required to follow a two-stage, self-registration process: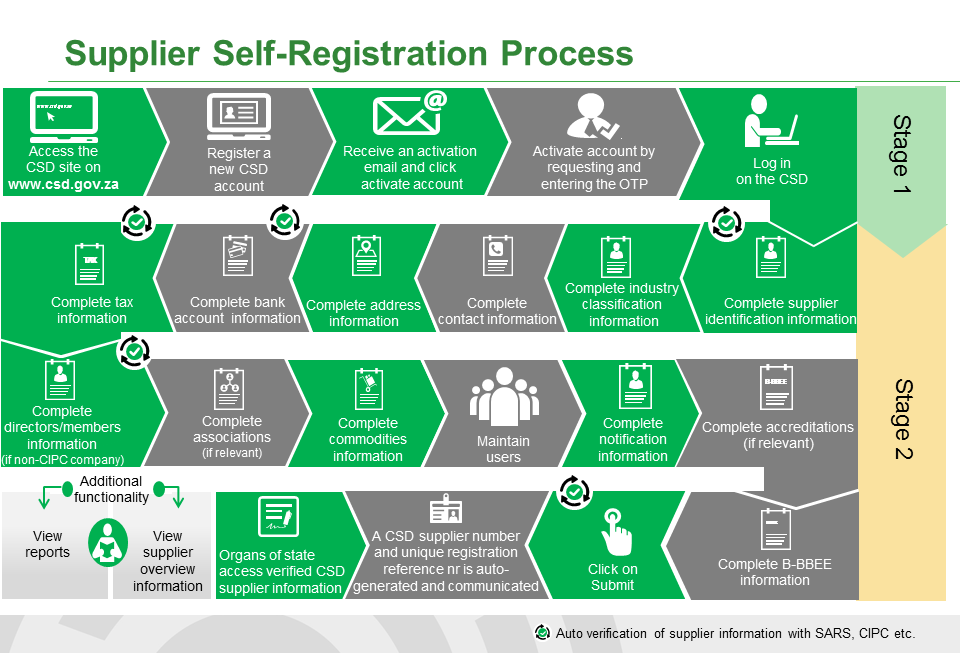 How do I know I am successfully registered?
The registration is complete once the supplier information is assigned a Supplier number and a 36-digit Unique Registration Reference Number.
How do I obtain a registration report?
Click on Report, followed by Registration;
Enter your Supplier number and the Unique Registration Reference Number;
Click View Report.
I sent a list of questions through to the CSD on 10 December 2018, in a bid to not only get some answers to questions but also to see how responsive they were to my queries. You are able to contact the CSD directly through their website, by using their Provide Feedback option. I have corresponded with them previously, and haven't had any complaints about their response time, and with this little test; I was impressed. They responded a couple of hours after I emailed them. Below are the questions I sent and the answers, I received:
Q. How long, on average, does it take from beginning to registered?
A. It takes about 20 minutes to register a supplier. The bank takes up to four business days to verify after registering.
Q. Which form of communication is encouraged by the CSD? Through the website, telephone or the Walk-In Centres?
A: All those forms of communication are encouraged, it depends which one you prefer.
Q. What info is required should a supplier use a Walk-In Centre?
A. To register in the walking center one should bring their ID, tax clearance, banking details (business account), CK (depends what type of business it is).
Q. Is there any company/ supplier that doesn't have to be registered on the CSD?
A. Everyone that wishes to conduct business with the government needs to register on CSD.
Q. Does a supplier's registration lapse?
A. As long as you pay your CIPC annual fee, you will not be de-registered.
Q. How does a supplier de-activate their registration, i.e. remove themselves from the CSD?
A. One can deactivate or delete their profile at any point. When deleted, the supplier number cannot be retrieved back.
Q. How many companies can be registered per profile?
A. You can register up to five (5) companies under your profile.
Q. Is the CSD involved in payment being made to suppliers for services rendered?
A. The department that awarded the tender will be responsible for payment for services rendered.
Contacting the CSD:
The website address is https://secure.csd.gov.za/
There are various ways to contact the CSD, the main being National support: csd@treasury.gov.za
012 406 9222
The direct link for all the Provincial options is https://secure.csd.gov.za/Feedback/ProvincialContacts
There are seven Provincial Walk-In Centres:
Walk-In Centres
National Treasury
National Treasury
240 Madiba Street, City of Tshwane, Pretoria, Gauteng
Free State
Free State Provincial Treasury
Fidel Castro Building, 55 Elizabeth Street, Mangaung, Bloemfontein,
Free State
Eastern Cape
Eastern Cape Provincial Treasury
Tyamzashe Building, Phalo Avenue, Bhisho, Buffalo City, Eastern Cape
Western Cape
City of Cape Town
12 Hertzog Boulevard, 2nd Floor Civic Centre Building, Cape Town,
Western Cape
Limpopo
Limpopo Provincial Treasury
56 Paul Kruger Street, Capricorn, Polokwane, Limpopo
Mpumalanga
Mpumalanga Provincial Government
Building No 4, Lower Ground Floor, 7 Government Boulevard, Ehlanzeni, Mbombela, Nelspruit,
Mpumalanga
Kwa-Zulu Natal
Kwa-Zulu Natal Provincial Treasury
Treasury House, 145 Chief Albert Luthuli Road, Msunduzi, uMgungundlovu, Pietermaritzburg, Kwazulu-Natal
Sources:
http://ocpo.treasury.gov.za/Resource_Centre/CSD/Supplier%20Leaflet.pdf
https://secure.csd.gov.za/
http://ocpo.treasury.gov.za/Resource_Centre/CSD/CSD%20User%20Guide%20Master.pdf
To view more articles, please visit the Leads 2 Business Blog.
If you are interested in becoming one of our subscribers, please visit Leads 2 Business.
To view notes with screenshots on how to use our website, please visit the Leads 2 Business Wiki.
I started working at Leads 2 Business in February 2005, and have served as Head of Department of Daily Tenders from 2007 until the present. I oversee both the Daily Tenders South Africa and Africa Departments.