3D Construction

A very very interesting topic that I am happy to write about. I first heard of 3D printing about 4 years ago when plastic moulds and items were being made, only to find out after doing research, that the concept of 3D printing has been around longer than I have! The concept of 3D printing first came about in 1974.
As per Wikipedia, "1974: David E. H. Jones laid out the concept of 3D printing in his regular column Ariadne in the journal New Scientist. 1981: Early additive manufacturing equipment and materials were developed in the 1980s. In 1981, Hideo Kodama of Nagoya Municipal Industrial Research Institute invented two additive methods for fabricating three-dimensional plastic models with photo-hardening thermoset polymer, where the UV exposure area is controlled by a mask pattern or a scanning fibre transmitter. On July 2, 1984, American entrepreneur Bill Masters filed a patent for his Computer Automated Manufacturing Process and System (US 4665492). This filing record shows UPTO as the first 3D printing patent in history; it was the first of three patents belonging to Masters that laid the foundation for the 3D printing systems used today."
There are many materials you can use when it comes to 3D construction such as plastic or concrete etc but what I am focusing on is 3D concrete construction
1) What is 3D Concrete Construction?
This is a revolutionary tool used in the production method where you can actually print/create solid objects from a digital source in the form of a picture that you have drawn up and uploaded to your 3D printer.
3D concrete printing is used to create or fabricate new shapes of construction components. This was not previously possible using ordinary machinery which now means that you can literally print your dream home.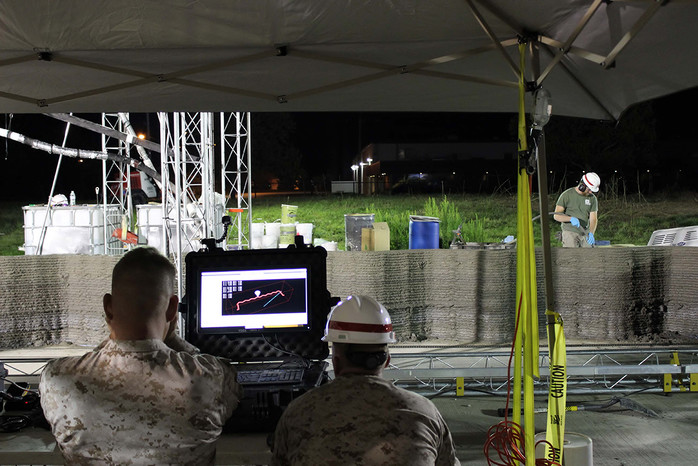 2) How does it work?
Basically what would happen is you would need to design your house. If you are familiar with CAD, you can design the house yourself or if not, then hire an engineer to assist you. You would upload the file to your printer and create a 3D model or blueprint. The printer will read the files and then get to work.
Instead of hiring a builder to construct each stage of the house from ground level upwards, the printer itself will start printing layers and layers concrete until the structure is complete. It takes your drawings and copies it into a 3D model, making it a reality.
You can also choose if you would like the printer to create or build the whole building in one go from the ground up or print multiple sections that fit together like lego pieces.
A normal printer like one at home or in the office would take ink, but a 3D printer has containers of raw materials such as concrete.
Honestly, when I first heard of 3D printing, they were building a small 3D printed bicycle bridge and having people test it.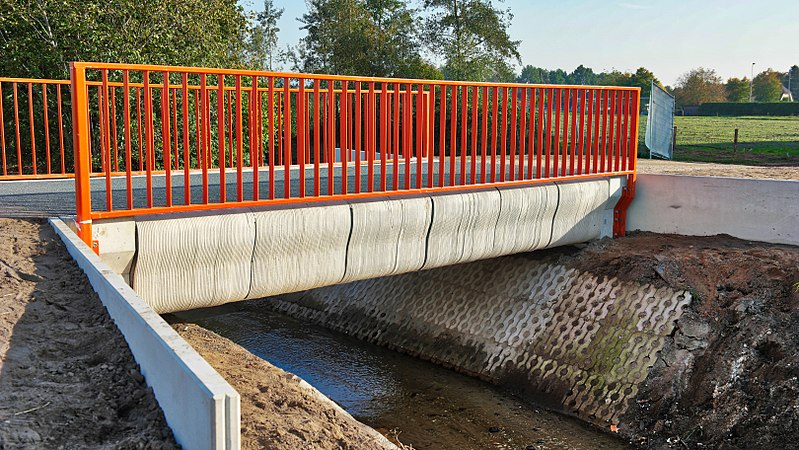 Then, they had gone onto building small one-bedroom, one level houses.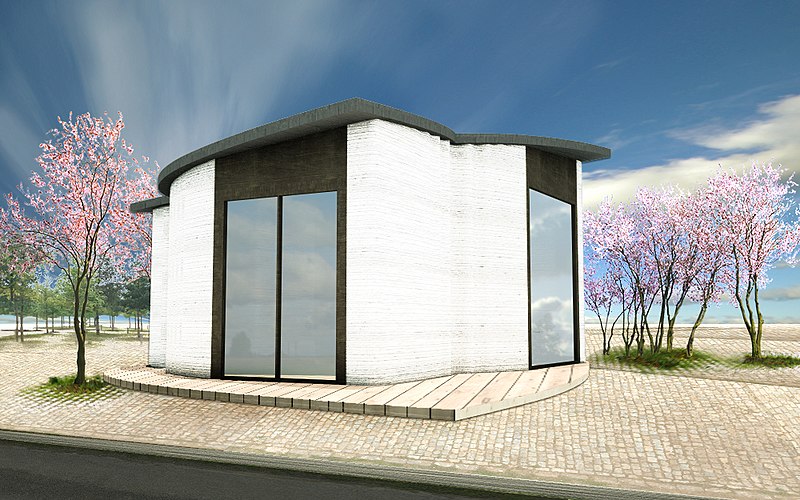 Now watch this amazing video of the worlds biggest 3D printed building. This building is 2 levels and 640sqm.
3) How does this affect companies within the building and construction industry?
Well, 3D printers are rapidly being used in the construction industry and they are the future but in my opinion, they really are helping the construction industry for the better.
Remember that the 3D printer lays the framework. You can also build facades, roof panels, stairs with this but you would still need to employ infrastructure workers,  plumbers and electricians etc to finish the construction work
4) Advantages
Faster construction – it is said that one house can be built in 24hours. Time is money and who doesn't like saving money?
Reduces worker fatigue
Increased safety
Fewer work injuries
Design absolutely any building you like
Labour cost savings
Greener – Eco-Friendly by using leftover materials from construction or mining sites
Weather conditions do not affect production
Higher accuracy
Fire resistance
Concrete printing has a lot of advantages over concrete casting. One advantage is that it does not require any formwork. Formwork can easily take up to 50% of costs in concrete construction because it is very labour intensive. Usually, you would have to build a structure and then take it down again. With 3D concrete construction, you would only have one movement. This would print layers without any formwork which saves a lot of time, money and materials.
In 3D concrete printing, they are now aiming for all components of the house to be separate and be easily detachable so that they can be repaired or replaced.
Architects Engineers and Contractors can now take a completely different design approach. They will no longer have to think in terms of straight beams, columns, solid slabs. They can freely experiment with different acoustics and curved shapes. Creativity is the main thing, more flexibility, new ideas and opportunity
5) Disadvantages
The machine itself is costly
The machines vary in size but most are quite large and can cost a heck of a lot to transport to the site
Digital errors can occur
Still costs to hire an engineer/architect to do the drawings.

6) How much time and labour force does it take to set up the 3D printing machine?
Again this depends on the size and type of printer. Let's talk about the Gantry model, this printer consists of 4 steel columns and three steel beams that enable the printhead to move within the boundaries of the structure. This would typically take up to 4 hours to assemble.However, there are also other types of printers with robotic arms on tracks which could just roll off the truck onto the site and start the printing process immediately. With regards to speed, some machines can build up to 250mm per second with a layer height of 50mm. I read online that a small house of 650 square feet, like a bachelor pad, takes less than 24 hours to build and could cost you around R60 000. R 60 000 for a one-bedroom apartment.
This technology is growing is faster and faster. The shift from prototyping to actual commercial application and implementation in the building industry is happening right now.
Did you know that in October 2019 it was said that Dubai aims to be the leading reprinting hub worldwide?
3D printing technology aids the construction industry but I don't think it replaces it by any means. There is still a need for various professionals, consultants, contractors, vendors and suppliers. Here at Leads 2 Business, there are still many many project proposals, town planning and construction projects happening daily. Especially the new Mega-Cities and precincts using the "live-work-play concept". These Projects are proposed for Gauteng and are available on our website.
Questions I would like to ask you – the readers:
1) Do you use a 3D printer at work?
2) How do you feel about 3D technology in the construction industry?
3) Does 3D concrete construction directly affect you?
4) When did you first hear about 3D construction?
Comment below and let me know.
Sources:
Marcorsyscom
Wikimedia
Wikipedia
Youtube
Flickr
---
To view more Articles, please visit our Leads 2 Business Blog.
If you are interested in becoming one of our subscribers, please visit Leads 2 Business.
To view notes with screenshots on how to use our website, please visit Leads 2 Business Wiki.
I started my journey at Leads 2 Business in the Directory Department in 2012. I was then promoted to the Private Projects Department in 2014 and was recently promoted to Projects HOD this year.