The toll on our roads: is it fair & the impact on accidents and safety


Before starting the discussion if tolls are fair we need to know the following:
What are tolls?
Most roads are built with local, state or national government money raised from taxes. Tolls are like a tax that applies only to the users of the toll road. Some lanes may have people working the toll booths so that you can pay with change or cash like we usually see in South Africa.

Click here to view the source
Why have toll roads?
Roads form the main artery of economic competitiveness, growth and social development. To build roads costs billions of rands. Toll roads assist us in meeting the demands of social services, which are important for the growth of our country. Toll roads accelerate the availability of initial funding for construction, compared to traditional tax-based funding. They also make new road capacity available to motorists sooner. Toll roads, therefore, reduce the total net cost to the economy, ensuring greater opportunities for prosperity and growth.
What are my tolls used for?
The tolls collected on a specific road are used to, among other things, repay the loans obtained to finance the building, upgrading or improvement of the road. In addition, it provides a dedicated on-going revenue stream, which enables the road to be adequately maintained and improved, independent of tax –based revenues.
What do I get from using a toll road?
Toll roads are built and maintained to the highest possible standards. Because we uphold such standards, South Africa is recognised as a world leader in pavement technology.
Therefore you are ensured of a smooth ride, saving you on the running costs of your vehicle and saving you time. Improved security ensures you a safe and pleasant journey. Tolls ensure that funding is available much sooner, for adding highway capacity at the right time thereby relieving congestion, reducing losses in time and productivity.
I feel an argument coming on, does the government use this revenue wisely? Do they take the commuters using these roads daily in consideration?
If you use the tolls once in a while one might not be affected by the increase in toll fees, but if you use these daily routes to work and back, costs start adding up.
A trip from Soweto to Pretoria cost motorists an additional six percent in tolls. This is just one route' as the increases cover tolls across South Africa,
The Automobile Association (AA)' commenting on the South African National Roads Agency's tariff increases announced unexpectedly in March 2017' calculated that the increase in rand terms is from R731.80 to R775.40 for a return trip between Soweto and Pretoria on a monthly basis.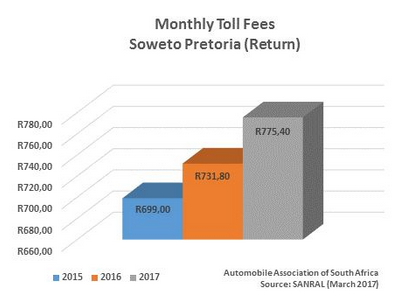 Click here to view the source
Like all costs, tolls fees have to be increased as well as toll roads are constantly being upgraded, but one wrong decision made by a civil engineer and millions of rands could go to waste.
Okay, but that's opening a whole new can of worms.
Accidents can be caused by various aspects when using roads, including bad road surfaces, bright lighting from oncoming traffic (from the not so courteous drivers), no proper barriers in place which could avoid a string of vehicles from being involved in an accident, potholes… POTHOLES!!!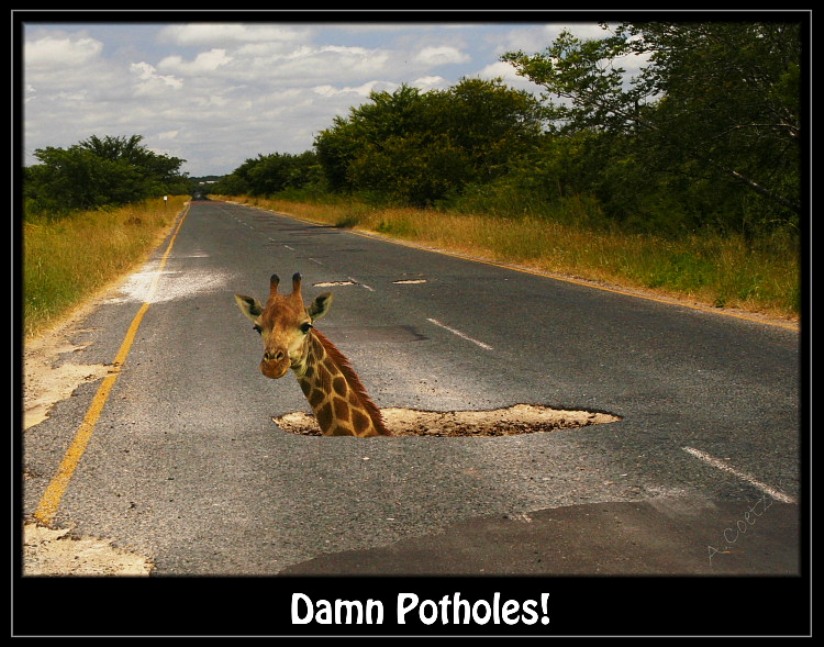 Click here to view the source
Every driver's nightmare, besides causing damage to your vehicle that can cost you thousands to repair, these tiny holes and some not so tiny, can cause truck accidents and motorcycle accidents in addition to poor road conditions that often result in serious car accident injuries.
Moreover, motorcycle drivers are at an increased risk for serious and fatal injuries due to the dangerous road conditions potholes create. When a vehicle hits a deep pothole, the impact is similar to that of a collision at 35m/ph (56.3km/ph). All motorists have a responsibility to look out for road hazards, such as potholes and drive carefully to prevent car accidents.
Yes, motorists have to do to their part concerning road safety, but the government also has to play a vital role in this.
Road safety campaigns have been implemented from their side. Is this enough? Have they drawn enough attention to these campaigns?
A key aspect of the integrated Road Safety Management Programme is increasing pedestrian safety. In planning and design, SANRAL (South African National Roads Agency) provides for interventions such as traffic calming, safe stopping areas for public transport and pedestrian bridges. The Department of Transport also engages communities adjacent to national roads to find solutions to pedestrians' needs.
To contribute to safety on the roads, SANRAL has developed a database of projects that need to be implemented in areas that are hazardous to pedestrians. The solutions range from pedestrian bridges, pavements, road safety education and traffic calming measures.
When it comes to managing safety on freeways, SANRAL's incident management system, supported by central coordination centres, embraces interaction between emergency services and law enforcement agencies on all declared national routes.
Be safe on the road my fellow commuters, overall we have to keep ourselves safe on the roads.
Here are a few tips to keep you and others safe when travelling,
adhere to the speed limit
avoid the use of cell phones while driving
ensure that your vehicle is roadworthy
do not cross the road where it is not safe to do so
take regular breaks
buckle up, safety belts save lives
avoid driving under the influence of alcohol
Also visit the Arrive Alive website for more safety tips, https://www.arrivealive.co.za/
Travel safely!!!
Did you Know #DYK: Interesting facts about research in South Africa
I have worked for Leads 2 Business from January 2015 till present. I work for the Leads 2 Quotes Department for Directory and Control List.