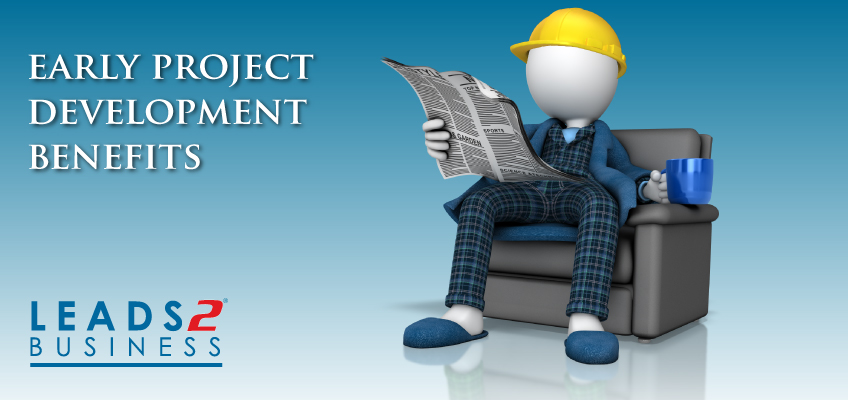 I have to revert back to the dictionary again and break that heading down, just the keywords, those are the important ones:
Early: Dictionary.com says "in or during the first part of a period of time, a course of action, a series of events",
Benefit and its dictionary.com definition is: "Something that promotes or enhances well-being; an advantage".
So, I could change the heading to: How does a course of action involving developments promote myself and my company? Conceptual is the earliest stage that we add new projects, normally this entails various studies that still need to be done, business plans, feasibility studies etc. This is an opportunity for everyone, might be a little early for the contractor to start sharpening his tools but he will know about this development and can follow the progress through the early stages while waiting to pounce when it's his turn but if your forte is turning an idea into a viable business plan, this could be your moment. Procedural is still pretty early and here is when environmental studies will be done. There is a strong possibility that a professional team has not been appointed yet and this is where the Project Managers, Developers, Engineers, Quantity Surveyors and Architects can ply their trade and promote themselves as to why they would be the best person for the job. Design is a little later but still early enough in the game and perhaps the rest the professional team is still being sourced….this is your cue, call the contact that is listed on the project and promote you and your company should your profession not be listed. Today could be your day. We let you know about the opportunity as early as possible and being proactive you would use the opportunity to benefit you and your company.
For more information on Leads 2 Business, please visit www.L2B.co.za
I started at Leads 2 Business in April 2008 in the Tenders Department and transferred to the Projects Department during the same year. I was promoted to Head of Projects Department in February 2011. I am a mom to 2 humans and 3 furbabies and enjoy decorating sugar biscuits as a hobby which keeps me out of mischief.