The most extravagant greenhouses / buildings


Before we look at the largest and most extravagant greenhouses I think we need to cover what a greenhouse is. A Greenhouse is a structure with walls and roof made chiefly of transparent material, such as glass, in which plants requiring regulated climatic conditions are grown. These structures range in size from small sheds to industrial-sized buildings.
The idea of growing plants in environmentally controlled areas has existed since Roman times. In the 13th century, greenhouses were built in Italy to house the exotic plants that explorers brought back from the tropics. Greenhouses in which the temperature could be manually manipulated first appeared in 15th century Korea. The concept of greenhouses also appeared in the Netherlands and then England in the 17th century, along with the plants. Today the Netherlands has many of the largest greenhouses in the world, some of them so vast that they are able to produce millions of vegetables every year.
The golden era of the greenhouse was in England during the Victorian era where the largest greenhouses yet conceived were constructed, as the wealthy upper class and aspiring botanists competed to build the most elaborate buildings. A good example of this trend is the pioneering Kew Gardens.
| | |
| --- | --- |
|   | Kew Gardens is a botanical garden in Southwest London that houses the "largest and most diverse botanical and mycological collections in the world". Founded in 1840, from the exotic garden in Kew Park, UK, its living collections include more than 30,000 different kinds of plants while the herbarium, which is one of the largest in the world, has over seven million preserved plant specimens. The library contains more than 750,000 volumes, and the illustrations collection contains more than 175,000 prints and drawings of plants. It is one of London's top tourist attractions and is a World Heritage Site. |
A Conservatory is a building or room having glass or tarpaulin roofing and walls used as a greenhouse or a sunroom. If in a residence, it would typically be attached to the house on only one side. Conservatories originated in the 16th century when wealthy landowners sought to cultivate citrus fruits such as lemons and oranges that began to appear on their dinner tables brought by traders from warmer regions of the Mediterranean. Municipal conservatories became popular in the early 19th century.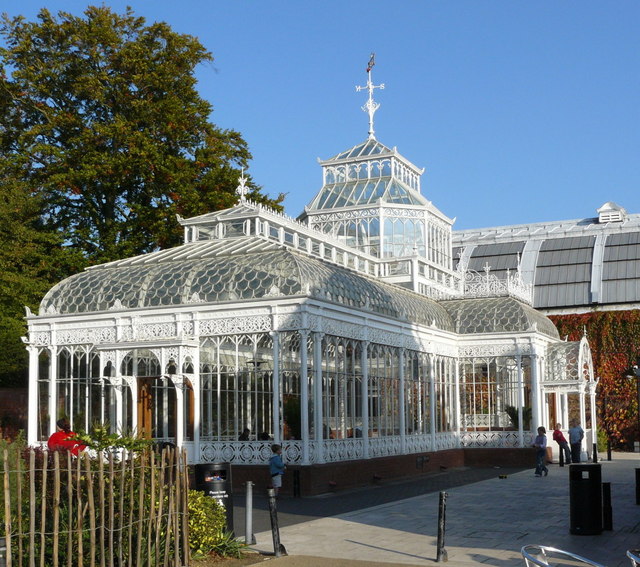 A traditional conservatory at the Horniman Museum in London.
In the UK the legal definition of a conservatory is a building that has at least 50% of its side wall area glazed and at least 75% of its roof glazed with translucent materials, either polycarbonate sheeting or glass. Today the terms sunroom, solarium and conservatory are used interchangeably by the public, but in general, the term conservatory and particularly English conservatory evoke the image of an ornate structure, echoing the traditions of that Victorian era of conservatory building.
Anthaeum, Hove built in 1830 with the world's largest dome, was an iron and glass conservatory planned by English botanist and landscape gardener Henry Phillips and designed by architect Amon Henry Wilds on land owned by Sir Isaac Goldsmid in Hove, Sussex. Conceived on a grand scale and consisting of a gigantic cupola-topped dome covering more than 1.5 acres, the structure was intended to enclose a carefully landscaped tropical garden, with exotic trees and shrubs, lakes, rockeries and other attractions. Disagreements between the architect, the project engineer and the building contractor led to structural problems being overlooked or ignored, though, and the day before it opened the Anthaeum collapsed spectacularly in 1833.
Adelaide's Bicentennial Conservatory was constructed in 1987 and opened in late 1989. The building was designed by local architect Guy Maron and has won awards for its design, engineering and landscaping. It is 100 metres long, 47 metres wide and 27 metres high making it the largest single span conservatory in the southern hemisphere. The conservatory houses at risk or endangered tropical rainforest plants from northern Australia, Papua New Guinea, Indonesia and South Pacific Islands.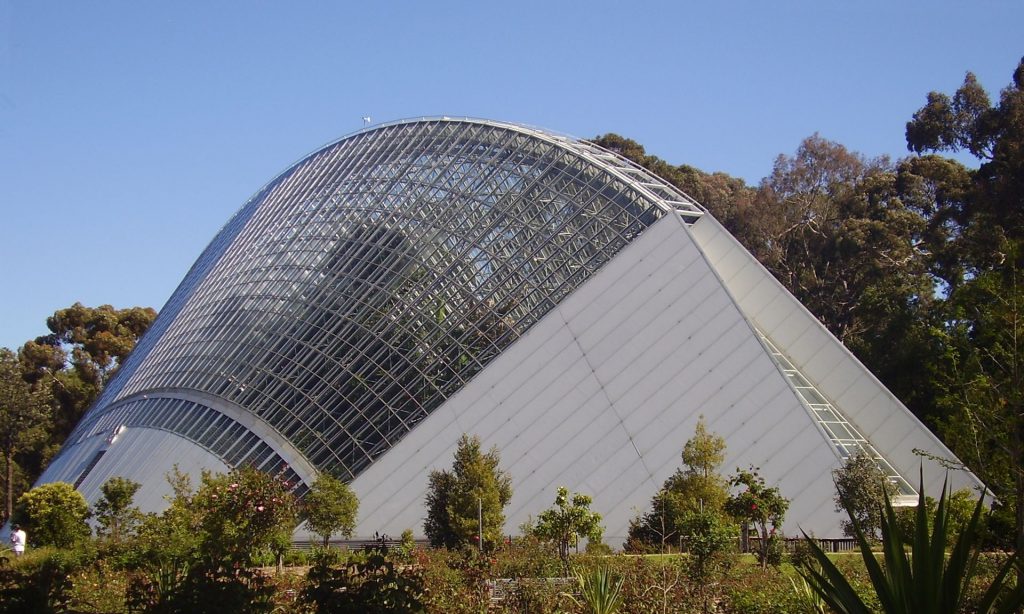 Adelaide's Bicentennial Conservatory
Although there are lists of spectacular glass houses or conservatories, the Palm House at Schönbrunn Palace Park in Vienna takes the cake as the largest glass house in continental Europe. It is 111 metres long, 28 metres wide and 25 metres high composed of 45,000 sheets of glass. It is also among the largest botanical exhibits of its kind in the world, with around 4,500 plant species. Devised by designer Franz von Segenschmid and constructed by metal worker Ignaz Gridl in the 1880s, it is now a UNESCO World Heritage site.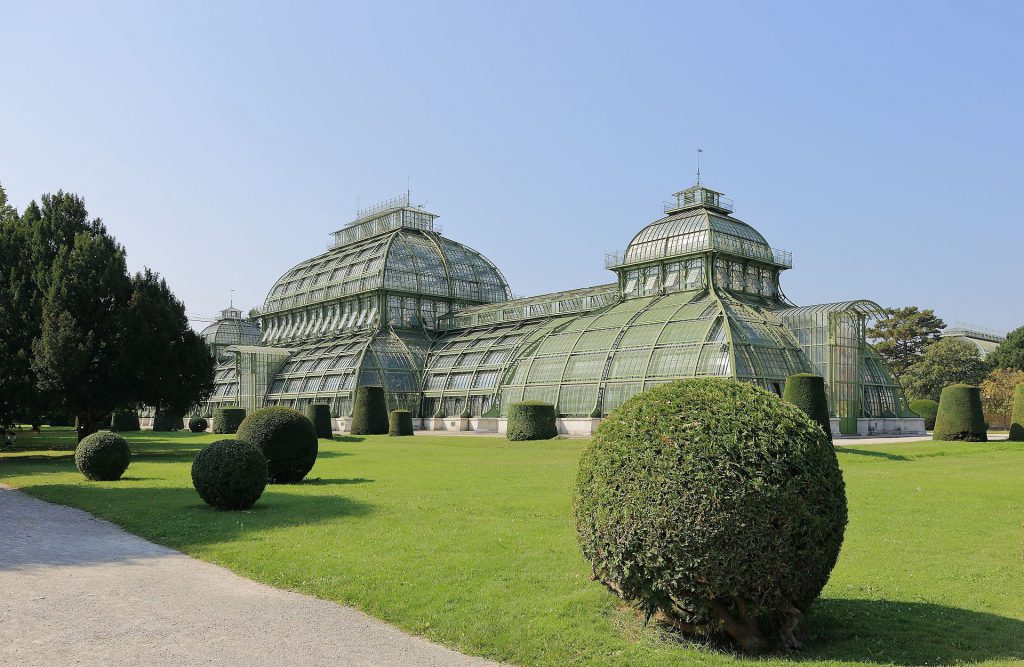 Palm House at Schönbrunn Palace Park
No matter how extravagant the building or greenhouse the importance of greenhouses still remains. Greenhouses allow for greater control over the growing environment of plants. Greenhouses may be used to overcome shortcomings in the growing qualities of a piece of land, such as a short growing season or poor light levels, and they can thereby improve food production in marginal environments. Greenhouses are also increasingly important in the food supply of high-latitude countries, as they may enable certain crops to be grown throughout the year.
Sources:
https://en.wikipedia.org/wiki/Greenhouse
https://en.wikipedia.org/wiki/Kew_Gardens
https://en.wikipedia.org/wiki/Palmenhaus_Sch%C3%B6nbrunn
http://greenarea.me/en/109899/the-importance-of-greenhouses/
If you are interested in becoming one of our subscribers, please visit our website.
To view notes with screenshots on how to use our website, please visit our Wiki site.
To view more articles, please visit our blog.
My name is Helga Venter. I started with the company in 2004 and was promoted to Financial Director in 2007.