Are there dark times ahead for Eskom?
You are either nodding in agreement or shaking your head, depending on how you perceive the current situation.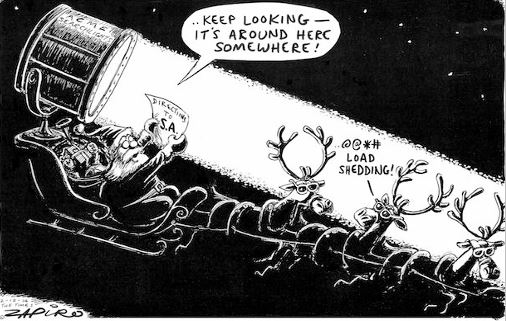 Eskom is a state-owned (SOE) company that provides virtually all of South Africa's electricity and the load shedding crisis was felt deeply by all South Africans. Businesses and homeowners were affected by random blackouts and limited access to systems. At first, we laughed and joked about the ambience, the candles and the romantic dinners, but then after a few months people started to lose their sense of humour and it became quite annoying, to say the least. Rosters were stuck up on fridges, meals prepared before the time, washing planned for certain days etc. We prepared as best we could. But why should we have to? We are paying for this right! So if we are paying for electricity, then why do we not have electricity?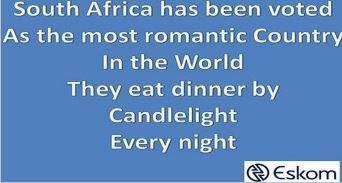 Recently I read that the South African government had already been warned back in 1998 that the country was running out of electricity!! Despite these warnings, they decided not to invest in any new power stations. If they had listened, South Africa could have had a new power station up and running by 2006 and load shedding could have been prevented. But in 2007 as predicted, South Africa ran out of electricity, 8 years later the crisis has deepened.
South Africa's infrastructure including our power plants are operating well beyond their lifespan and due to an increase in demand often break down and force Eskom to perform unplanned maintenance. As a result, they have relied on diesel generators to make up for the shortfall when power plants are in for maintenance – At a huge expense!
Eskom has set up its own maintenance plan to ensure long term plant health and seem to be progressing well as the maintenance has resulted in a reduction in the number of breakdowns over the past 7 months which in turn means we haven't had load shedding.
In their plans, they have prepared for the higher demand in the winter months and are building new power plants to help shore up power reserves. Eskom expect to spend billions/trillions over the next 5 years to build these power stations….spend whose billions exactly?
Quote – "To meet its targeted nuclear generation capacity, SA's Government has said they plan to build six new nuclear power plants by 2030 at a cost estimated between R400 Billion and R1 Trillion."
Just this week, I read an article that the National Energy Regulator of South Africa (NERSA) announced that electricity prices will be increasing by 9.4 per cent from April. So that's how they are paying for their mistake! In other bad news, it was said that this increase could have terrible consequences for businesses such as closing down and retrenchment. Jobs are already in the firing line and the tariff increase could be used as the excuse to start retrenching. The Chamber of Mines has already warned that if Eskom's application is approved, over 40 000 jobs could be lost. Apparently, the 9.4 per cent hike is just the first of many, as Eskom's Khulu Phasiwe said prices will go up again. Already I can just see my news feed filling up with statuses such as #EskomFeesMustFall… But there may be a silver lining to the increase – the risk of load-shedding will be less, but at what cost?
The maintenance schedule is under Eskom's own control and it only has itself to blame for the poor maintenance practices that we have had to suffer and pay for. Eskom has plans in place to ensure maintenance continues to stick to a schedule and continues uninterrupted, well, so they say.
Being the optimist I am, I do have some good news as I prefer to see the good in everything, even Eskom. The good news is that as of April 2016, it has been approximately 207 days since the last load shedding, whoo hoo!! Plus Eskom has reassured us that this is the one count that will continue to rise, oh, and as it seems also the tariff hike…but anyway…Eskom says they "do not expect" load shedding in the future as the company has stabilised.
I have a dream…that one day we will have to explain in depth what the dreaded "Load Shedding" was when speaking to our grandchildren. In the same way that we would explain call boxes, polyphonic ringtones, tape players and typewriters. But again, I say a dream.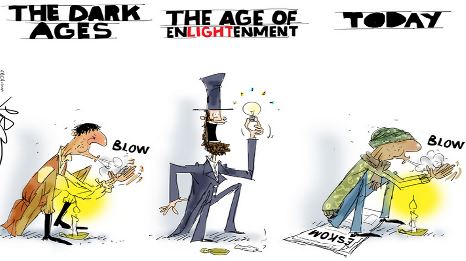 Many people still fear that SA is on the verge of disaster due to the most recent events such as the firing of the finance minister, JZ's admissions about Nkandla and the demonstrations at various university campuses where various items were burnt or destroyed. There are also concerns about a recession. But are they correct?
Keeping Eskom afloat is only part of the solution. Identifying where they went wrong and learning from their mistakes is another big part of the solution. Investigating viable alternatives is another part. One obvious lesson is that they should stop building large plants. Look at Medupi, it is already way more expensive than planned and even though it's not operational yet, it is contributing to the rising cost of electricity and worsening our country's problems. If they had decided to build a smaller plant, it may have been operational by now.
Mr James-Brent Styan, a journalist, has been writing about Eskom since 2008. He was there from the first load shedding and is still writing and tweeting about Eskom today. For those interested to read about Eskom's journey, their ups and downs along with future predictions, look up the book "Blackout: The Eskom Crisis".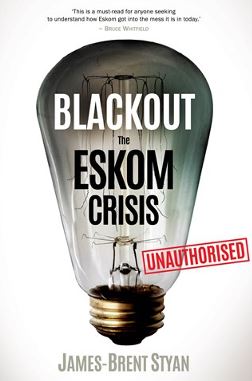 Maybe we could also look at having different suppliers besides just Eskom, have a choice in who we prefer to supply our electricity. In the UK they have "The Big Six Energy Suppliers" namely British Gas, EDF Energy, E.ON, Npower, Scottish Power, and SSE. They have an option to decide who they think would be best suited to them. This might not be such a bad idea. There are also options such as going off the grid etc that one could look into.
The bottom line is, that if the Eskom ship sinks, we all sink. There is no doubt that Eskom must be fixed, but we mustn't hold our breath that this will happen any time soon. Eskom does seem to have a plan of some sort and have had a wake-up call and are taking drastic steps to ensure this does not happen again, but we have not been given a time frame and most of us don't trust that Eskom will do as they say.
So I don't have a clear answer as to whether we will or won't have to deal with load shedding again, or if there will be a light at the end of this tunnel. All we can do is shed some light on the current situation, it's then up to you to decide.
---
To view more Articles, please visit our Leads 2 Business Blog.
If you are interested in becoming one of our subscribers, please visit Leads 2 Business.
To view notes with screenshots on how to use our website, please visit Leads 2 Business Wiki.
I started my journey at Leads 2 Business in the Directory Department in 2012. I was then promoted to the Private Projects department in 2014 and have been working as the Regional Gauteng content researcher ever since.