One of the earliest documented attempts at building implosion was the 1773 raising of Holy Trinity Cathedral in Waterford, Ireland with 150 pounds of gunpowder, a huge amount of explosives at the time. The use of low-velocity explosive produced a deafening explosion that instantly reduced the building to rubble.
There is no actual date when demolition started and how they had demolished castles and other types of structures, but in our times we see demolition every day. I was under the impression you plant your dynamite, press your button and BOOM! Not knowing how much knowledge is required for demolishing a structure, or the different types of demolishing techniques there are. For instance, for smaller houses or small buildings large hydraulic equipment, cranes and bulldozers can be used. Large buildings, bridges, tall chimneys and smokestacks can be demolished with explosives. A new approach to demolition is the deconstruction of a building with the goal of minimizing the number of materials going into landfills, this is called the "green" approach. This is applied by removing the materials by the specific type of materials and segregating them for reuse or recycling. The Japanese company Kajima Construction has developed a new method of demolishing buildings which involves using computer-controlled hydraulic jacks to support the bottom floor as the supporting columns are removed. The floor is lowered and this process is repeated for each floor. This technique is safer and more environmentally friendly and is useful in areas of high population density.
However interesting demolition is, if not done correctly the outcome can be devastating. In fact, any error could be disastrous as it could severely damage neighbouring structures. Flying debris could harm onlookers, a building that fails to collapse completely may be unstable and could be difficult for workers to approach and then of course air overpressure that occurs during the implosion. If the sky is clear, the shock wave (a wave of energy and sound) travels upwards and disperses, but if cloud coverage is low, the shock wave can travel outwards, breaking windows or causing other damage to surrounding buildings. In regards to this, let's take a look at some demolitions gone wrong:
2013 Philadelphia building collapse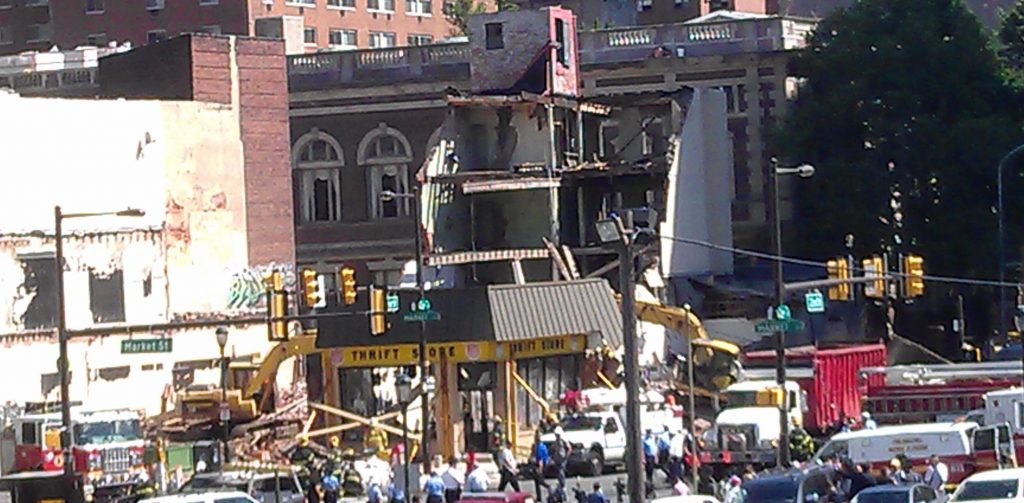 On 05 June 2013, a building undergoing demolition collapsed onto the neighbouring Salvation Army Thrift Store at the southeast corner of 22nd and Market Streets in Centre City, Philadelphia, Pennsylvania, trapping a number of people under the rubble. The store was open and full of shoppers and staff. Six people died and fourteen others were injured. The construction contractor, Griffin Campbell, an excavator operator, Sean Benschop, was charged with involuntary manslaughter and other charges. They were found guilty of manslaughter, and Campbell and Benschop received prison sentences of 15 years to 30 years, and 7.5 years to 15 years, respectively.
On 12 June 2013, Ronald Wagenhoffer, the 52-year-old City Department of Licenses and Inspections inspector responsible for inspecting the demolition site, was found dead in his truck with a gunshot to the chest. His death was ruled a suicide.
Royal Canberra Hospital implosion
The Royal Canberra Hospital implosion was a failed building implosion that killed one person and injured nine others. The implosion occurred on 13 July 1997, when the city's superseded hospital buildings at Acton Peninsula on Lake Burley Griffin (that formerly constituted the Royal Canberra Hospital) were demolished to make way for the National Museum of Australia. The main building did not fully disintegrate and had to be later manually demolished. But far worse, the explosion was not contained on the site and large pieces of debris were projected towards spectators situated 500 metres away on the opposite side of the Lake, in a location that nobody considered unsafe or inappropriate. A twelve-year-old girl, Katie Bender, was killed instantly, and nine other people were injured. Large fragments of masonry and metal were found 650 metres from the demolition site.
In cases of demolition gone wrong, these demolition failures did not only cause destruction to near surrounding buildings or the loss of reputations, but the cost was so much more, the cost of lives.
In order to practice the phenomenal art of demolishing, one must always have the necessary qualifications and truly know their story.
Sources
https://en.wikipedia.org/wiki/Building_implosion
https://en.wikipedia.org/wiki/Demolition#Manual
https://en.wikipedia.org/wiki/Building_implosion
Canberra Hospital Memorial stone image
Philadelphia building collapse image
If you are interested in becoming one of our subscribers, please visit our website.
To view notes with screenshots on how to use our website, please visit our Wiki site.
To view more articles, please visit our blog.
I started working for Leads 2 Business in February 2017. I work in the Daily Tenders division where we source and capture daily tenders for our subscribers. It is an absolute pleasure being a part of this Company and I look forward to being apart of this company for many years to come.