3D Concrete Printing


Wow…so looking at pictures of 3D concrete printing, I was like: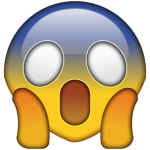 Is this even possible…and yes, it is.
So let's have a bit more of an in depth look at exactly what 3D Concrete Printing entails.
Definition: 3D Concrete Printing refers to various technologies that use 3D printing as a core method to fabricate buildings or construction components.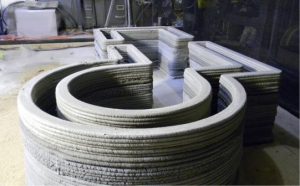 So basically, construction units such as walls or columns can be pre-fabricated off site by means of 3D printing. The completed wall parts will then be transported to the construction site, installed on traditional foundations and reinforced with traditional steel structures or cement. The unpolished walls can then be supplemented with different finishes.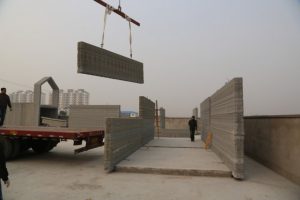 There are numerous 3D printing methods used on a construction scale, which include the following main methods:
Extrusion (concrete, cement, wax, foam, and polymers),
Powder Bonding (polymer bond, reactive bond, sintering)
Additive Welding.
3D printing at a construction scale will have a wide variety of applications within the private, commercial, industrial and public sectors.
Advantages of these technologies include:
• Faster Construction
• Lower labour costs
• Increased complexity and/or accuracy
• Greater integration of function and less waste produced
• Could improve the quality of the end product
• Another advantage is the freedom of design, whereby buildings can be tailored to suit customer needs.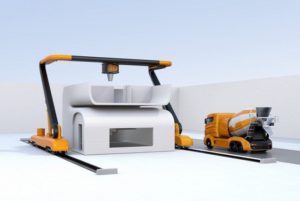 Demonstrations of these technologies have included fabrication of housing, construction components, bridges and civil infrastructure. This technology has increased in popularity in the recent years as new companies have emerged onto the market, such as Yingchuang Building Technique (Shanghai) Co. Ltd or Winsun as it is known. Their entry into 3D printing started in 2005, with the intervention of the spray nozzle, one of the main elements of its first 3D printer. The spray nozzle was used to experiment with cement and other materials. Winsun also set up the world's biggest 3D construction printer, which is 10 metres wide, 6.6 metres high and 150 metres long…pretty awesome hey 
In 2013, Winsun successfully printed a batch of ten 3D residential houses, whereby they used a special ink made of cement, sand and fibre with a proprietary additive. Winsun has increased productivity and made it possible to save costs, a standard house can now be built for plus minus $30,000. Then the increase in the speed of construction is a huge factor as well, for example, the construction of a two-storey 1,100 sqm mansion took one day to print and two days to assemble…yes I know, incredible right!!
Winsun's technology is also a lot more environmentally friendly. They source 50% of their ink material from construction waste and mining tailings.
The company's most important showcase project was the company's first 3D office. It opened in May 2016 in Dubai for the Dubai Future Foundation. The building was printed in Suzhou, cut into pieces for shipping and transported to Dubai. It was assembled and finished within a few weeks.
| | |
| --- | --- |
| | |
Now, the main challenge that faces 3D printing is the scepticism of designers, governments, project developers etc. For some it seems just too good to be true. Winsun then realised that they can win clients over by inviting them to their factory to view the prototypes with their own eyes. They are also collaborating with architects such as Cornell Design Institute, Tongji Design Institute and Jiaotong University to educate designers to incorporate the 3D-printed design into their work, as well as training architects with its textbook on 3D printing.
Below are a few amazing 3D buildings that have been built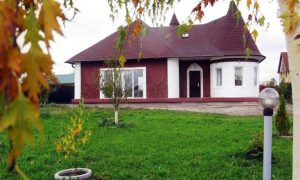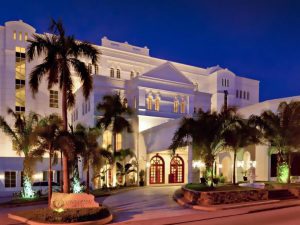 And that is 3D concrete printing as I understand it and a bit of background into one of the world's biggest 3D concrete printing companies, Winsun.
I hope your mind is as blown away as mine at the moment 😀
Now get cracking on your new 3D printing building.
Sources:
Lifegate
CNET
Wikipedia
Future of Construction
To view more articles, please visit the Leads 2 Business Blog.
If you are interested in becoming one of our subscribers, please visit Leads 2 Business.
To view notes with screenshots on how to use our website, please visit the Leads 2 Business Wiki.
I started working at Leads 2 Business in May 2013 in the Africa Tenders Department. I worked my way to the Leads 2 Quotes Department in September 2016 and have been there ever since.